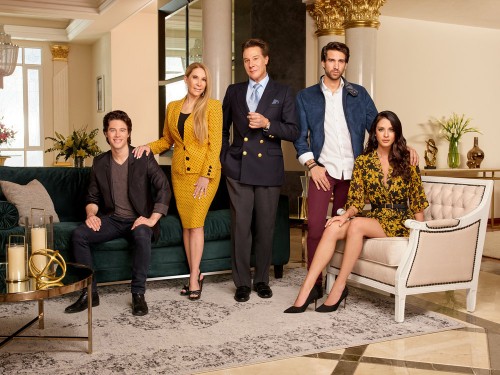 Bravo Media flies south of the border announcing a new docuseries, "Mexican Dynasties" will premiere February 26th. Filmed in the cultural mecca of Latin America, Mexico City, "Mexican Dynasties" will follow the lives of three families.
"The Allendes, the Bessudos and the Madrazos - whose fortunes stem from the entertainment, beverage and luxury car industries, respectively, offer a glimpse into the multilayered, complex culture found in Mexico. Connected to each other through a string of personal and professional relationships going back decades, these families have Mexico City and all of its offerings in the palms of their hands. 
Fernando Allende is a megastar and 80s heartthrob married to his wife Mari for 30 years and they have two sons, Elan and Adan.
Public Relations maven Doris Bessudo moved to Mexico City from Beverly Hills to help her mother after the passing of the family patriarch.
Siblings and self-proclaimed "soulmates" Oscar and Paulina Madrazo co-host their popular television show "Qué Madrazo."
In the new series, these passionate, fun and loving families proudly display their over-the-top lifestyles, challenge stereotypes and even raise a few eyebrows now and then.
The all-new series, "Mexican Dynasties" premieres Tuesday, February 26 at 10 pm ET on Bravo.
Photo by: Tommy Garcia/Bravo