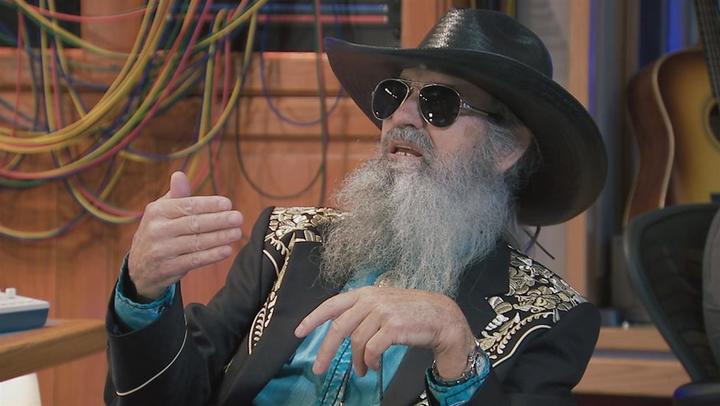 by Ashley Thompson
Willie and Kory are dropping their son, John Luke, and his wife, Mary Kate, off in Virginia at Liberty University. Missy and Jase are tagging along to stop-over in Nashville to see their musician son. More importantly, Uncle Si has invited himself into the RV road-trip so that he can try to live out his life-long dream of being a rockstar. What would an Rv trip be without Uncle Si?

Before he can call himself a rockstar he has to look like a rockstar. Hello bedazzles and snakeskin shoes! The Royal Flush, as Si likes to call himself, is visiting Willie's friend, Colt, in his studio. His album title will be "Rhinestone Is The New Black". First things first... Si has to rap. HIs version of rap is describing an actual poker game. Um... hmmm. Royal Flush out!

On to Virginia. John Luke was in charge of getting his house built right off campus. Unfortunately, the email actually read, "... will be delivered". Which means they have to put it together. And it is NOT put together. So what do the Robertson's do? Go research the dorm situation on campus. Duh, boys and girls can't live in the same dorm room. Solution? Leave the kick-ass RV in Virginia next to their unbuilt house and live in it until their house is complete. Must be nice.

Back home, Jep's son, River, is turning 7 and the only thing in the world he wants is to make a ninja movie. Jep is the director of 'The Assassin' movie. Basically, the plot is, an evil wizard captured a princess using foul henchmen and River gets to save the princess. Jessica is the princess, Phil is the wizard, the foul henchmen are Miss Kaye, Godwin, and Martin. Totally adorable until he told an adult to "shut up". Once the movie, shot on an iPhone, is completed it's actually not horrible. Jep shot the Duck Commander hunting videos back in the day so he has some experience. River's face is adorable when he sees the final cut. Totally worth it.
Photo credit: A&E