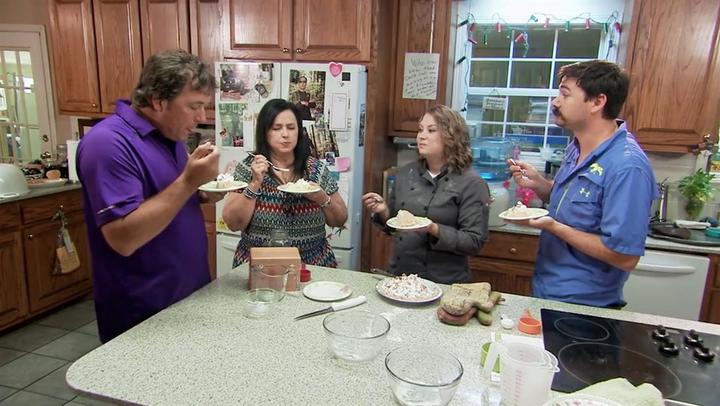 By Ashley Thompson
Kay has always wanted to share her cooking with the world so she had decided to open up a bakery. Willie has offered to advise her... is that a good thing? Just maybe. She's not much of a visionary so designing the space maybe be better left to someone else. Alan's daughter will be the head-chef and her husband (with his Luigi 'stache) will be the manager. But Miss Kay can't get her mind around the fact that she won't actually be the one baking. "Remember the time I made 15 pies??". Unfortunately her recipes aren't really readable, either. "Two cups of sweetness", "one chunk of butter". Are those mathematical measurements? Maybe not, but they are the way a real southern woman cooks.

Kay says, "The type of person you are shows up in your cooking," and lucky enough her grandaughter, Alex, has the cooking gene. After almost passing the cooking test, Kay is still not quite convinced. Off to the fried pies but there's one ingredient that's still missing, love. Phil's honest opinion is that Alex's baking is pure perfection. It's not defeat, Miss Kay, it's an adventure.

Four words: fried green tomato BLT. The boys are tired of the same ol' lunch options around town so they're headed to Vicksburg, Mississippi. An hour and half to drive to lunch isn't too far fetched, is it? Have you ever heard a redneck give directions? "Go past the pot hole that's dried up. ... You know that tree that got struck by lightening about seven years ago? With the dog under it? It had a tower (pronounced like "tire") nearby?... You don't turn there, you go past it." So specific.

Once they get to the Tomato Place, Godwin discloses that he doesn't actually eat tomatoes, but "they have good chili dogs!". Turns out the restaurant also have a contest going, 10 hot dogs in 2 minutes and you get a t-shirt. Godwin. Is. In. But he's already eaten two chili dogs, can he handle 10 more? Of course he can. One the ride home he needs a bucket, though. 
Photo credit: A&E