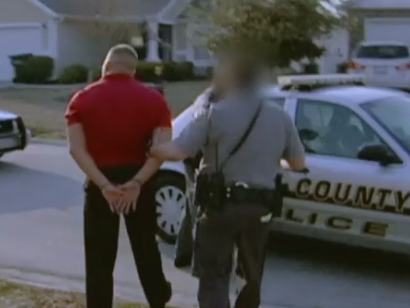 By Jessica Blackwell
Last night's episode of Teen Mom 2 was SUPER intense! I was left feeling bad for most of them by the time the hour was up. 
First off, Nathan and Jenelle got in another fight, but this time, the neighbors called the cops on him. Things turned ugly when Nathan told Jenelle he was talking to another woman. He then declared that they were over and demanded that she return his engagement ring. Of course she refused, and according to her, things got physical. Nate swears that he didn't do anything and he cried like a baby as he was cuffed and ducked into a cop car. A no contact order was issued, but they continued to talk through Nathan's friends. First Jenelle was turning Nathan over to the authorities and looking for apartments, but after speaking with him, she started to waver, most likely getting ready to start the cycle all over again. I'm not trying to make light of any domestic situation, but this is the third boyfriend Jenelle has gotten arrested. Maybe she's the issue? Just a thought. 
Kail's baby daddy, Joe is going to be a papi again, and instead of telling her himself, he delivered the news via their son. And another thing, he's not just moving to town, but to her development as well. Meaning he'll be 10 or less houses away from them - kind of creepy! Kail could care less about the impending bundle, but she does care that Joe and Vee will be so close. She wants to maintain their current custody agreement and doesn't want Joe dropping by anytime just because he can. She also wants to preserve their space. She and Javi know that they will be the only people they know in town, and they don't want to become the Brady Bunch. Good luck with that Kail! 
Chelsea  is the only mom that received some good news this week. She and Adam finally had their day in court, and he lost - big time! The judge decided not to grant him shared custody and ruled that his parents still have to supervise his visits with Aubree. And then right after their court appearance was over, he was arrested for being delinquent on his chin support for Paisley. Needless to say, this was a victory for Chelsea and her camp! 
The saddest part of the entire episode was when Jeremy served Leah with divorce papers. Earlier on, she noted that he hadn't mentioned the divorce in a while, so she was hopeful that maybe he would drop it. Instead she got served with papers in a grocery store. Needless to say, she was devastated. She didn't have time to break down, because she had to deal with her three kids. It really is heart breaking to see Leah struggle with her bad ass kids all by herself. Somewhere in the midst of the girls screaming and reading over the divorce papers, she realized that she hasn't stopped going since she was 16 and pregnant. She decided to take a break and check herself into a facility to get some intensive therapy, which she obviously needs. It seems like a step in the right direction, but Jeremy clearly doesn't care. She called him to tell him about her plans and he told her that although he was proud of her for taking that step, he was not going to change his mind about the divorce just because she's getting help. She immediately started to cry. Looks like its really over. So sad! 
Stay tuned! 
Teen Mom 2 airs Thursdays at 10/9c
(image courtesy of MTV)