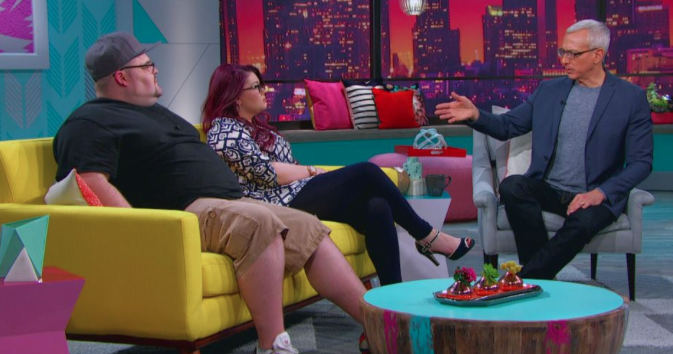 by Jessica Blackwell
So all the moms (and their former partners) reunited for the reunion. For the first installment, Dr. Drew focused on Maci and Amber. 
First up was Ms. Prego herself, who since the taping, gave birth to her daughter Jayde Carter. Dr. Drew asked her questions about quitting and resuming filming, which she answered before, but then he went into interesting things, like how she feels Ryan is doing as a parent, and how she got pregnant. 

Despite Ryan admitting that Bentley doesn't always wear a car seat when he's riding in his car and almost killing himself (and possibly others), Maci says he's doing better than he's ever been. Maybe something changes since filming stopped?  When discussing her pregnancy, Maci revealed that she suffers from a condition that causes her not to ovulate. Since she knew she and Taylor would want a child one day, she stopped her birth control and here came little Jayde. 

During her segment, Amber ended up storming off stage. Dr. Drew of course questioned her about her pop up relationship and she wasn't having it. I must say he was a bit hard on her but everything he was saying was true. He confronted her about how quickly they got together, Matt's superman past, and how her impulsive behavior might be linked to her past. 

Her brother, who has been vehemently against the relationship from the start, came on the show and was at least happy that they were willing to get a prenup. At one point Amber decided that she was tired of the questioning and stormed off set exclaiming how they were just normal people. Yea right, because normal people move in together hours after meeting and get engaged after being together for a really short time. I don't question her choices, maybe he really is Prince Charming, but what bothers me is why she doesn't understand everyone else's concern?? 
Stay tuned for the next installment of the reunion as we dig into Farrah and Caitlin's stories. Stay tuned! 
Teen Mom airs Mondays at 10/9c on MTV. 
(image courtesy of MTV)