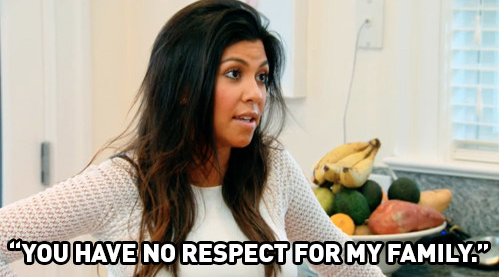 by Jessica Blackwell
I was not a fan of the Hamptons spinoff. First of all, as I have been saying - no one took the Hamptons. Secondly, the producers took an old tired storyline and tried - with no avail - to give it life. Kourtney tries to get Scott's life under control, but he acts crazy, and she needs one of her sisters there to be here companion and help her get through it. It's stale, and I hope they come up with something new for the next season. Even the season finale - which aired tonight - wasn't up to par. 
The storyline centered around alcohol - trying to keep Scott away from it (yet again) and the crazy thing it caused Malika to do. Kourtney chewed Khloe out for leaving alcohol bottles around the house because she felt like Khloe was being glib about Scott's drinking problem. I see Kourt's point, but she isn't really being fair. She basically forced Khloe to come to the Hamptons with her and got pissed eveytime she left - meaning she expected Khloe to be there at all times. And apparently, while she's locked away in the house, she can't party or drink because that would be bad for Scott. How boring! Khloe isn't the one with an addict boyfriend and 2.5 five kids, but she still has to suffer? Sounds awful! Khloe reminded Kourtney how much she had done for her family and almost packed her stuff and left early, but luckily they worked it out. 
Prior to the bottles being left out, a trip to the vineyard left Malika a little tipsy and kissy! While Khloe was trying to get her drunk behind in the bed, Malika kissed Khloe! I would say OMG that was so shocking, how will they ever move on and be friends, but it really looked like a staged moment. You know, to end the season off with a bang? Khloe avoided Malika for a few days, pretending to be uncomfy, and then Malika told her to get over it. The end! So fake, btw - I bet Malika and Khloe have kissed thousands of times! It's not like Malika all of a sudden looked up a Khloe after years of friendship and was like "I want to kiss her" NOPE didn't happen. Nice try though. 
After sharing the peak and pit of their Hamptons faction, the season wrapped up! Thank gawd! 
Despite my disappointment with Hamptons, the series previews for the return of KUWTK does actually look interesting. The cameras capture Kris and Bruce's final separation, including Kylie and Kendall's emotions, Bruce dating Kris's best friend, and Kris meeting her current younger boy toy. Kim and Kanye are desperately trying for baby number two, and someone winds up pregnant (I have a feeling it's Brandon and Leah). 
Kourtney and Khloé Take the Hamptons airs Sundays at 8/7c on E! 
(image courtesy of E!)