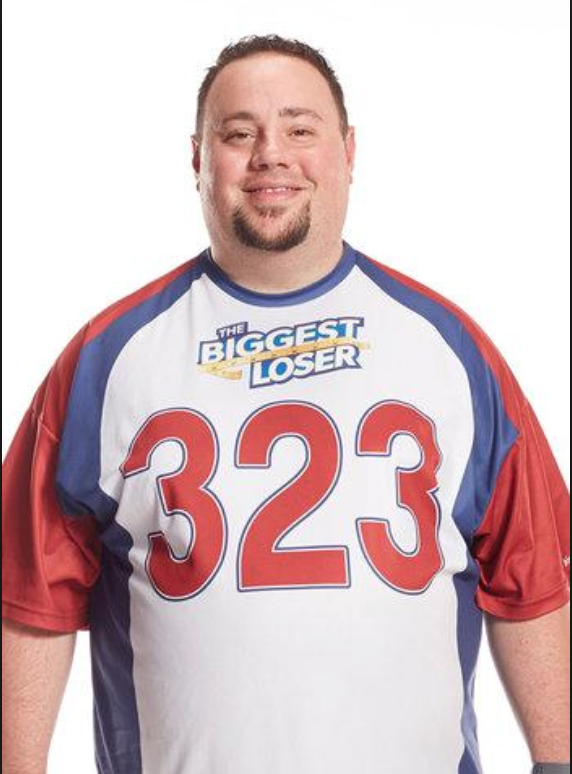 We caught up with Jordan after he exited the show last week.
How are you staying motivated and focused on yourself now you are eliminated?
Dolvett looked me in the eye and said," You've been giving people a sub par version of yourself ." From that moment on I realized I was just half living my life. I've always put others first, wasn't taking care of myself …..now I get up early…I'm in gym at 6am, and it is my time. I'm still learning, because it's tough to put myself first but if I want to be a good father and around for my kid then it has to be done.
Whose workouts were harder?
I trained with all of them, they all have their strengths and weaknesses….Bob's was tough because he pushed me beyond what I thought I could do but to be honest, the first workout was the toughest ….but I was 300 pounds. 
What's the biggest change you've had to make, especially since becoming a new dad?
You cant schedule everything being a parent and a dad…..but it's about learning about a healthy lifestyle, living a healthy life, versus just being selfish……But I plan as much as I can and I plan ahead….in the start of the week I cook a bunch of chicken…..planning ahead…..not just grabbing things on the run as I used to do….I schedule around my son's sleeping times….I used to live by the seat of my pants…. but now my schedule is more regimented..
His plan?
Actions speak louder than words……I want to be an active lifestyle role model…..I want to be a good role model for my kid, talk to him and share my story…..tell him how much he's changed my life……it wasn't till I found out my wife was pregnant that I realized I needed or even wanted to make a change……my dad was my baseball coach…..it's the coolest thing in the world…to hear your dad yelling on the side of every single game and throwing the ball at batting practice……I want to be the same for my kid. That said, if he isn;t into sports then of course I will encourage whatever he wants to be  but I will be there for him no matter what.
His tips tips on healthier choices?
I'm definitely going to have a healthier 2015 ….I was always into salty foods over sweet…I snacked late at night….but now, instead of just being on a diet, I am finding healthier options like the fit popcorn they made in the Biggest Loser house. I also have loads of raw vegetables cut up and ready to go with low cal dressing. Just change a few things in your diet…cut out butter and sweets….when I have sweet cravings it's usually because I haven't eaten enough protein…..it's more about being informed, listening to your body, training yourself to be focused…versus actually dieting.
What was the biggest challenge? 
The hardest thing was being away from my family, everything on Biggest Loser is physically tough and demanding, but being cut off from family that's hard……I was lucky and got on Skype because of the challenge……but yeah, the emotional side of the weight loss was the toughest, emotional eating…….finding the root of the problem….and then figuring out how to solve it…that was by far the biggest obstacle to deal with.
What are your triggers now? 
One of the things I do to stop emotional eating….was to treat myself like an alcoholic…or drug addict…the first thing I turned to was food…I suppressed all my emotions with food and endless eating…but you have to make sure you have someone to talk to…..say, "heres what I'm struggling with…" Then you have to find a creative outlet, exercise or something that ensures you are not drowning your sorrows in a big mac…when there's tough things going on you have to remind yourself you are going to better yourself…you have to do something that is not just going to hurt yourself more….you have to realize that emotional eating is not helping you but hindering you more…..when you finally work that out and commit to it then you can really start to make progress.
What was your game plan to get  through the holidays?
I really like beer……so I have committed to no alcohol till finale…..I'm saving that for a treat for the end…but I'm Italian….my whole family life revolves around food….the culture, the lifestyle it is all based around food…and I was worried about the holidays with mom cooking up pasta dishes, serving up cured meats, salamis…..but I spoke to my mom and said "I love you but I'm gonna bring some of my own stuff…..don't be offended, it's just what I need to do…" So I would eat the turkey breast….stay away from the stuffings…..planned on prepping ahead even for the holidays  because it's not just finale, it's the rest of your life and there will be more holidays and vacations……so you have to just start making better decisions if you want to get and stay healthy.
I mentioned Mike was determined to win the at home contestant prize, working out 7 hours a day and asked if he was as determined as him to win?
I love Mike, he's an incredible guy….we've actually stayed in contact a lot…..and in reality the whole group is competitive but even though Scott and I they both wanted to beat each other at Comeback Canyon there was just not drama like other seasons because we were all there for a common goal…..the prize money is a bonus but they are all there to regain their former selves…..you know, it was called Glory Days and I think that all of us having been on team sports of some sort really made this a different year. We all want to be the person we were versus individuals chasing the prize money or the fame. The changes to health I'm getting now is worth more than money…
I agreed that there was less drama than the usual seasons and that more people seemed to be working as a complete unit than the individual competitiveness of other seasons.
Yeah, well sport is a universal theme…bringing everyone together…most of us were involved in team sports……camaraderie is such a huge aspect of being on a team and being part of a sport, even with your competitors and even wrestling, even though it's an individual sport you are still counting on your team mates……you know there is a guy that's up next…..and you all support one another….I think that really made this group unique, we were a team…..going back that was one of the hardest things was when we had to vote people off which is the total opposite of sports and why certain decisions were made that might not be the right decision to win the game but again we were all supporting each other so we all reached our goal.
What's ahead for you after the show?
I just want to be active again…..I want to play sport again, I absolutely love competing…I want to go back and play baseball or softball and racquetball……I want to teach my son how to be healthy and active and I want him to be a team player and hey I don't know what he is going to like but I hope he is into baseball……..I want to give him that legacy…..I'm hoping to have more kids…..but right now in my personal life it is one day at a time…there is so much new stuff going on and the show has opened so many doors, it's such a blessing to have been on Biggest Loser……seriously it's one of the coolest things of my life to be a part of this show… I feel blessed ….and I'm just looking forward to whatever comes my way……
Biggest Loser airs Thursdays on NBC