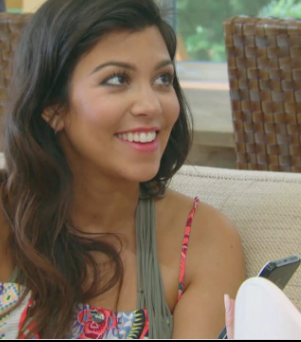 by Jessica Blackwell
Several things annoyed me about last night's episode of Kourtney and Khloe Take the Hamptons. First, no one is actually taking the Hamptons! This spin-off could take place in LA and no one would be any wiser. Could this be because the Kardashians are persona non grata in the snooty town? Second, the gender of Scott and Kourt's third baby was revealed sans drama or celebration. I mean it is their third baby, but everyone gets excited when a Kardashian baby is born! 
It was actually revealed in the first five minutes of the episode that Kourt and Scott are expecting another baby boy. I am confused about several things. First, the reveal wasn't actually caught by E!'s cameras, but instead taped by the Kardashians. Second, why not lead the viewers up to the suspense and reveal it at the end of the episode? It was the most interesting thing about the episode! I get that they couldn't reveal it in the doctor's office scene because dear old Scott was in rehab, but jeez, give us something! I guarantee you that at least a third of the viewers turned the show off after that moment. Those that did stay tuned in? We got an eyeful of couple style arguments that happened between Khloe and Scott - and them taking a bubble bath together. Yuck! 
Scott and Khloe have the weirdest relationship of any almost brother and sister in-law that I have ever seen. Scott talks to Khloe about things that he won't talk to Kourtney about and he actually seems to like Khloe more than Kourtney. Weird stuff man, weird stuff. 
The two closies had an opportunity  to work together after Khloe turned down a radio station show after they didn't want Scott as her co-host. Khloe decided to do a pod cast with Scott, from a bathtub. They literally got soapy and got in the bath together. They had on bathing suits but still! Couldn't they have just not done it and said they did? It was a pod cast for gods sake! 
Their love fest continued until Khloe invited Scott to be in French's new video and he blew her off completely! Scott hemmed and hawed about not wanting to drive for the shoot. At first he didn't care, but when he found out Khloe blew off the radio station for him, he was touched and apologized. The love fest continues! 
Next week, Kim looks for a bigger place. Stay tuned! 
Kourtney and Khloè Take the Hamptons airs Sundays at 9/8c on E! 
(image courtesy of E!)