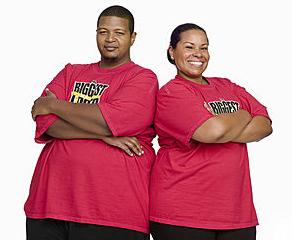 By Ashley Thompson
Season 7 Biggest Loser alum Damien Gurganious has died at age 38. He passed away Monday, November 24, 2014 after suffering from bleeding in the brain caused by the early onset of a rare autoimmune disorder.
Damien and his wife (then-fiancee) Nicole Brewer participated in the show together in 2009 to lose weight for their wedding. They were the third couple to get eliminated but lost a combined total of 264 pounds by the finale, done mostly at home. She posted the following on social media: "... it is highly ironic and deeply sad that my first true post is to inform you of the tragic loss of my beloved husband, Damien Gurganious." She goes on to say, "Damien suffered from the sudden onset of a rare autoimmune disorder, Idiopathic Thrombocytopenic Purpura (ITP), which caused inoperable bleeding in his brain. Damien passed away on Monday, November 24, 2014."
He leaves behind a 2 year old daughter, Giselle, and had celebrated his birthday only a week earlier. The family havs set up an online funding site to try to raise $25,000 to help the family of which fellow Season 7 alums Jerry and Estella Hayes have donated.
US Weekly announced that The Biggest Loser will air a tribute to Damien following next week's episode.
Photo credit: NBC