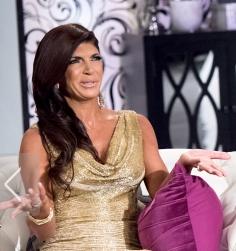 by Jessica Blackwell
The first installment of the RHONJ season six aired tonight and the on stage dynamic was very different from any other reunion. First, Teresa and Joe Giudice were sentenced to prison and then there were the bitter twins, sitting on stage like vultures jumping in to insult anyone every time they got the chance. Here are the most interesting/exciting/jawdropping moments from the first wave of reunion footage: 
Dina's Family Feud
Most viewers are aware of the  long standing feud between sisters Caroline and Dina Manzo. Both Dina and Caroline have remained tight lipped about the reason for the feud, only revealing that Dina stopped speaking to Caroline and that the feud is still currently going on. Tonight Dina spoke about the issue in greater detail than ever before. It seems that her biggest issue is with Jacqueline and she admitted that she doesn't know her nephew Nicholas at all, though she does pray for him nightly. She hasn't spoken to Chris, Caroline, or Jacqueline but she doesn't know how it got this bad. She saw the situation as a time-out, a break from each other but the others are taking it seriously. She invited everyone to Lexie's high school graduation party and no one came, and she wasn't invited to Lauren's engagement party. She just wants it to all go away..
The Cancer
As we watched this season, Amber played the cancer card quite often. Everytime something happened in one of the cast member's lives, she compared it to her cancer, like when Teresa got sentenced. Andy read a viewer card that asked if people often accuse her of pulling the "C" card and she said no. She wanted to use the show as a platform to raise awareness to breast cancer, and that makes sense. The twins didn't buy it and really felt like she milked the entire situation - and they told her so in their snarky manner. 
Is Jim Abusive?
The twins obviously are not big fans of Jim, to be honest, no one is, but especially not them. They accused him of being angry and vindictive and didn't believe that it stops when he gets home with his wife and family and felt that Amber was in an abusive relationship. Amber swore up and down that Jim never touched her, but admits she doesn't make him mad at home. Sounds a lot like tiptoeing around someone's anger problem to me. 
Teresa Walks off Stage 
The producers played back a segment that showed Kathy and Rosie's mom being asked about Teresa and Joe's fraud charges. She said "I don't know what to say about that, but when you don't do the right thing, it will catch up to you." I think that statement was fair enough and pretty alkaline compared to what other people have said about her, but Teresa didn't agree. She walked off stage, saying that she needed a break and would come back when that conversation was done because family just doesn't act like that. 
Next week Jim joints the show and the drama increase tenfold! Stay tuned! 
The Real Housewives of New Jersey airs Sundays at 8/9c
(Image courtesy of Bravo)