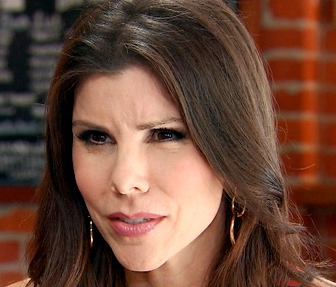 by Jessica Blackwell
Tamra finally got her guest spot on GDLA for CUT only to reveal to Heather there was another reason why she was upset with her! Despite finally being on the show, Tamra felt that Heather was being frosty toward her during the taping. When they sat down to discuss what happened, Tamra revealed that she was actually pissed at Heather for telling Eddie how desperately she wants to have his child. Eddie was pissed that Tamra shared their business and in turn, Tamra was pissed that Heather said anything. Realizing her faux pas, Heather apologized. 
Everything would be all good, but then in the same breath, Tamra did the exact same thing to Shannon that she got mad at Heather for doing to her! Shannon confided in Tamra that David wanted a separation and possibly a divorce. Trying to win Shannon some sympathy points with Heather, Tamra spilled the beans and betrayed her friend. If that ain't the pot calling the kettle black, I don't know what is! 
Next week, things heat up when Heather starts gossiping about Heather's marriage and Tamra denies that she let the cat out of the bag. Ooo drama, drama, drama! Stay tuned! 
The Real Housewives of Orange County airs Mondays at 9/8c on Bravo. 
(Image courtesy of Bravo)