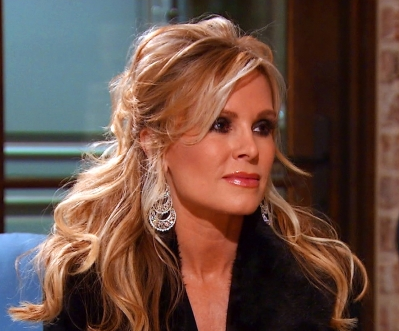 by Jessica Blackwell
Considering that Heather and Shannon just called a truce, I thought that any drama that went down during Shannon's holiday party would involve them, but it didn't. Well it didn't start off that way, anyway. 
Heather had just been offered to guest host on Good Day LA again, so she decided to spread the good fortune around and announced to Tamra and Eddie that she was going to feature their gym CUT on the show. As soon as she said it, you could tell Tamra (who should have been thrilled) had a puss on her face like she had something to say. Instead of thanking Heather, she reamed into her about bringing another fitness center onto the show instead of CUT the last time she was on GDLA. Heather was shocked and tried to explain that she didn't have any control over the feature on the show, but now that she does, she wanted to promote her friend. In my option, Tamra was acting like a spoiled brat. Heather didn't have to have promote CUT at all! 
Despite Heather's explanation, Tamra was still feeling burned so she spread the story around the party and even added a little gossip. She told Shannon that Heather told her she had to choose between being friends with her or Shannon. Shannon, wanting to remain true to the agreement she and Heather made to talks things out right when they happen, wanted to confront Heather right away. She sort of backed down when Tamra freaked out about it, not wanting Heather to "blow up" as Tamra said she would. Then Heather walked into the room and everyone got quiet - I mean you could hear crickets. Lizzie chose this moment to jump and encourage everyone in front of Tamra to share what they had been talking about. I seriously thought Shannon and Heather were going to kill her! 
Heather reiterated once again that she meant no harm to Tamra or Shannon and then faked a phone call from her kids as an excuse to leave. On her way out she told Tamra that she should "know better". 
It seems like the drama between Heather and Shannon may have been re-ignited, and Lizzie may have stirred up some more drama of her own! Stay tuned! 
The Real Housewives of Orange County airs Mondays at 9/8c on Bravo. 
(Image courtesy of Bravo)