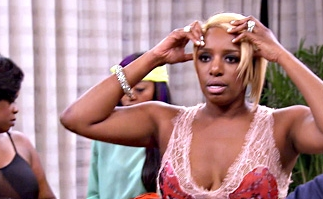 by Jessica Blackwell
Phaedra began planning Dillon, aka Mr. President's christening and she enlisted Dwight to help her. We all know by now that Phaedra plus Dwight equals FABULOUS! They threw a presidential themed bash, complete with secret service, a grand entrance, and a red, white, and blue theme. Phaedra really enjoyed herself, doing a dance routine with Dwight and changing her outfit, but Apollo put kind of a damper on everything. He refused to dance with Phaedra, hence the choreographed dance between she and Dwight, and he even snapped at her! They were getting ready to head to the blessing when Phaedra beckoned him to come, and because he had to put his plate of food down, he got pissey, telling her not to look at him with her "ugly eyes". At this point, I think it's obvious that their marriage is only for appearances. 
Kenya found out her chances of having a baby the natural way are very slim. This may be considered bad news for most people, but Kenya, who never shared a close relationship with reality was determined not to let the doctors deter her.  She headed straight for the nearest sperm bank to pick up potential donors for her spawn. 
For some odd reason, NeNe felt it was a good idea to have a couples pajama party at her house. That might have been ok if she just kept the invites to the normal crew, but she included Chris & Natalie and Chuck and his wife. This situation left the potential for plenty of drama: Kenya & Apollo, Chuck & Kandi, Chris & Kenya, there were just so many possibilities! 
The night started off with a game called "How Well Do You Know Your Man". During a question about men going to strip clubs, Apollo revealed that he used to blow $5,000 a night at the club when he first got home from prison. Kenya questioned where he would get that kind of cash from, and after his fraud arrest on Friday, I think we may know the answer to that! Peter tried to say he's not into lap dances when he does attend the strip club, and Kandi shut him down really quick when she reminded him that she walked into a strip club to find him with a girl on his lap! 
In the middle of the stripper conversation,  NeNe got up out of the blue and brought up what Kenya mentioned about Natalie and Chris being common law married and encouraged her to speak on it. Chris of course, had to defend himself and questioned what kind of medication Kenya was on. When Kenya stood up to face him, he got a little too close for her assistant's sake and they almost scuffled. Peter broke it up and then out of nowhere, Apollo starting fighting Kenya's assistant! No one could control him, and he even pushed Phaedra when she tried to pull him back! 
Even though NeNe started the entire situation, she blamed Kenya for getting out of her seat, and screamed in her face, denying her the right to check on Chris.  Just when it seemed that everything was calming down, Apollo charged at Chris again. 
Next week the brawl continues and the ladies rehash the entire night. Stay tuned! 
The Real Housewives of Atlanta airs Sundays at 8/7c on Bravo. 
(Image courtesy of Bravo)