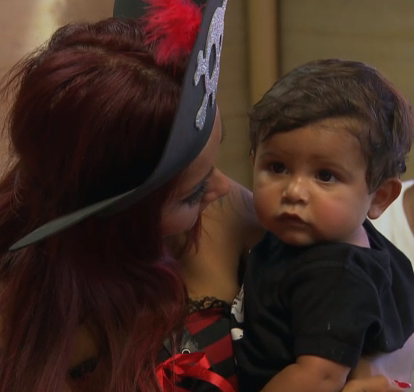 by Jessica Blackwell
To celebrate the anniversary of the birth of their little bambino, aka Lorenzo's 1st birthday, Snooki and Jioni decided to go with a pirate theme. Snooki enlisted Jenni to help her shop for decorations for the pirate extravaganza. Amidst shopping for eye patches, confetti and balloons, the girls donned president masks and did a skit pretending to be Obama and Clinton. Not politically correct, but still funny. 
Being the ever careful mother, Snooki had to be sure that Lorenzo wasn't scared of clowns so she and Jenni dressed up as them and paraded around. I'm not sure if Lorenzo was scared of clowns before they did this, but he certainly was after he got a load of his mother and Jenni twerking and dancing. 
Everyone put on their pirate gear and headed to Pirate Adventure's for Lorenzo's first birthday party. It was really cute complete with pirate games, a skit with "real pirates" who invaded their ship, and lots of candy. Plenty of family was there and Lorenzo seemed like he really enjoyed himself. 
After the party, Snooki, Jenni, Roger and Jioni sat and reflected upon the past summer and year. Snooki predicted that Jenni would be bringing a baby to Lorenzo's second birthday party and she guessed correctly considering that JWoww recently announced her pregnancy.  I guess their last therapy session convinced them they were made for each other. Thank goodness for babies, I thought there wasn't going to be a season three of this show! The future baby Matthews guaranteed that there will be, stay tuned for next season people! 
Snooki and JWoww airs Tuesdays at 10/9c on MTV. 
(Image courtesy of MTV)