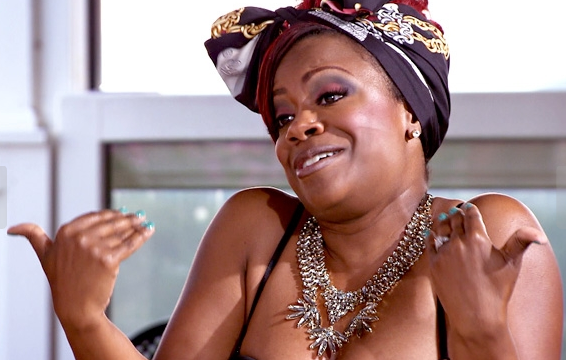 by Jessica Blackwell
Peter and Cynthia put their recent drama aside to celebrate their three year anniversary and hang out with their friends Christopher and Natalie. Cynthia was looking forward to introducing Natalie to some of the housewives, but early on in the evening, their roles on the show became clear. Christopher serenaded Peter and Cynthia with a song especially written for their anniversary and Natalie revealed that she knew Kandi's man, Todd. She said that he has a tendency to find himself in situations to better himself, basically saying that he was an opportunist like Mama Joyce has been trying to say as well. 
We all know Bravo introduces "new friends" to stir up drama on the show and it turns out Natalie's part was more than dropping that little tidbit about Todd. Along with new friends Marlo and Lexis, Natalie accompanied the ladies to an Atlanta vineyard. 
It turns out that Kenya knew Christopher and Natalie, and she had less than favorable things to say about them. She was on tour with Chris while they were in a play together and she insinuated that Chris treated Natalie like a groupie and that they weren't legally married. When Kandi started talking about her upcoming nuptials to Todd, everyone began sharing their wedding stories and when Natalie talked about how she and Chris eloped, Kenya came for her head. She told Natalie that Chris has referred to her as his common law wife and even simply his girlfriend. Of course Natalie said that Kenya must be lying, but you could tell that she was bothered by it. 
Later, she tried to get back at Kenya by telling her that she shouldn't comment about anyone's marriage when she's never been married herself. She also insinuated that Chris told her things about Kenya and she could bring up.  Unfortunately, that backfired on the poor girl when Kenya announced that she too knew things about Chris and told Kandi was she said to Cynthia about Todd. 
Kandi of course was annoyed that Natalie felt the need to bring things up about Todd that happened 10 years ago. While Natalie debated with Cynthia and Kenya, Kandi sat there very calmly and waited for her to explain herself. Once she did, Kandi decided to take a dig at Cynthia, comparing the situation to the things she knows about Peter and how she feels it has nothing to do with his current relationship with her. That might have been her way to get back at Cynthia for telling others what Natalie said before she told her, or even entertaining the conversation at all. Either way, Cynthia didn't like it one bit. Then Kandi squashed the entire situation by telling Natalie that the fact that she believes Todd "came up" from when he used to date her friend just means that she thinks Kandi is a hot bi***.  Then she proceeded to toast to Todd for getting with such a hot b****.  Nice close to the petty conversation Kandi, nice close! 
Next week, Peter find out what Kandi said about him, and there's a brawl at some kind of coed pajama party? These Atlanta ladies never cease to amaze me. Stay tuned! 
The Real Housewives of Atlanta airs Sundays at 8/7c on Bravo. 
(Image courtesy of Bravo)