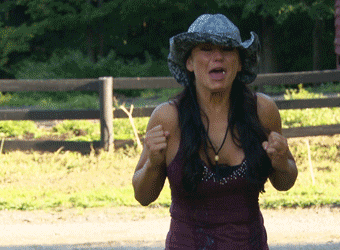 by Jessica Blackwell
Shortly after Jenni requested more romance in her relationship and Roger and Jioni cooked a romantic meal, Snooki and Jenni decided they wanted to go on a romantic couples weekend. To a dude ranch! Jioni may have missed the mark when he called the ranch "gay", but in a nutshell, he was saying "why would we ever go there for a romantic weekend?" My thoughts exactly. 
To keep themselves entertained, the boys came equipped with lots of practical jokes to play on the girls and forgot all about the romantic notions. Well maybe not all practical jokes, amidst the snakes in the toilet, surprises, and worms, the guys planned a nice dinner outside. The ladies thought they were getting one night of just romance, but boy were they wrong. 
While Jenni and Snooki were debating have sex in their shared room, the boys snuck up on them in Jason masks and fake machetes and scared the crap out of them. So much for a romantic weekend! With the shared room, Roger didn't get any nookie, and neither did Snooki and Jioni. The ladies got pranked all weekend long. I'll say they should shoot for a tropical island next time - and separate rooms! 
Next week Snooki gets the results of her DNA test and the ladies have a gay Joey night. 
Snooki and JWoww airs Tuesdays at 10/9c on MTV. 
(image courtesy of MTV)