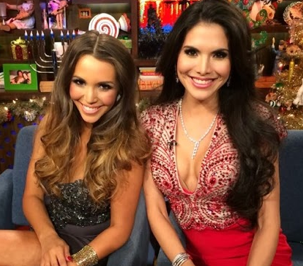 by Gina Scarpa
Last night, Vanderpump Rules star Scheana Marie and new Beverly Hills housewife Joyce Giraud descended upon the Bravo clubhouse to chat with Andy Cohen. Beyond the embarrassing old videos Andy whipped out and fun games the trio played, the topic of conversation often circulated around their respective rivals, Stassi Schroeder and Brandi Glanville.
Scheana swears she's not desperate for Stassi's friendship and even agreed with a viewer that perhaps Stassi is so mean because she's jealous that Scheana is in a stable relationship. Scheana and her boyfriend, Mike Shay, have been together for a few years now and she's admitted that she's hoping for a proposal. Stassi, on the other hand, has had a dysfunctional, on again/off again relationship with fellow cast member Jax Taylor.
While Scheana mostly played it nice, Joyce did not mince words when it came to Brandi. This season, Brandi said that the name Joyce reminded her of a big, fat pig so what does the name Brandi mean to Joyce? "A conniving, alcoholic bitch!!" Joyce exclaimed to Andy, to which the host responded, "Could you be more specific?"
Whether or not these pairs of women will work out their differences remains to be seen but judging by the looks of it right now, it doesn't look good. The Real Housewives of Beverly Hills and Vanderpump Rules air Mondays on Bravo.
(Image courtesy of Bravo)
Follow Gina @ginascarpa