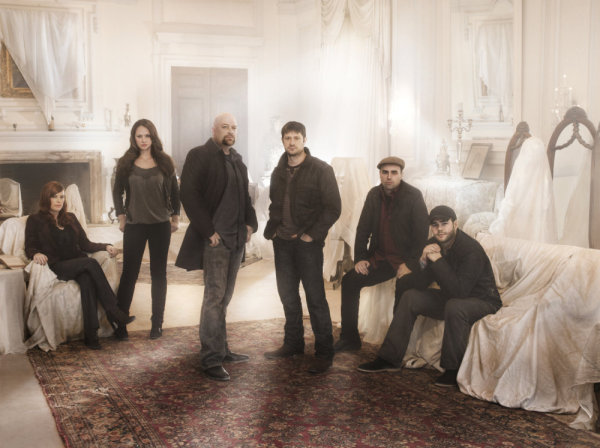 Story By: Chad Alan
"Hyde and Seek"
Hyde Hall - Cooperstown, NY
Cooperstown is probably best known for being the home of the Baseball Hall of Fame, but its long history has also made it a place for spirits to roam the town.  Hyde Hall is just one of the many haunted buildings in the city and TAPS called it their "Most anticipated case of the year."  Hyde Hall is actually a large house or manor if you will that George Clarke began to build in 1817.  He never saw the completion, dying on the front porch in 1835. His wife Ann took over the property only to be sent away from it due to a very coarse relationship with her children.  As her son George Jr. watched her get taken away in a carriage she left him with a dark and evil curse.  She raised her hand and said "You may drive me away from this house but I will return and haunt it forever. May no woman be happy in it again."  Apparently she is a woman of her word as the women who came to live in the house never felt comfortable and were often driven from it.  The new owners, workers, and visitors have reported seeing ghostly apparitions in both white and black shadow forms.  Footsteps come from empty floors and people are pushed on the main stairwell.  A lady dressed in 19th century attire has been seen from the outside in one of the windows.  The belief is that not only does Ann still haunt the place but George was so attached to the mansion that he could not pull himself away, even in death.
TAPS co-founder Jason Hawes and Steve Gonsalves were the first to investigate the Hall.  A male and female voice got their attention and the team manning the video cameras caught a shadow figure in one of the upstairs bedrooms, not far from where they believed the voices were coming from.  As they approached the room, one of their tracking lights they had set up in the room all of sudden came on as if it had caught something.  This same occurrence would happen in the nursery.  They validated the light mechanisms were working as expected so it's very possible that some type of being was there with them causing the light fluctuations. When they played back some of their audio they caught a voice that said "head to the nursery."  Right after this voice, a bright light lit up the nursery room and this was not a natural light.  They would also catch a baby crying on their audio.  After the nursery incident, both Jason and Steve heard footsteps coming up the stairs, but nobody from the team was coming to join them.  These footsteps were very loud and certainly audible to the viewers.  The stairwell is said to be a very active paranormal spot in the house.
Dave Tango and Britt Griffith headed to the crypt where George, Ann, and other members of the family are buried.  Two young children died and are buried in the crypt and people believe they hear children playing coming from the crypt.  They set up their equipment and started asking questions.  Britt asked, "Ann, did you put a curse on the house?"  They thought they heard some type of response but could not qualify it and it did not get picked up on their audio devices. The crypt itself is worth the price of admission as it could play a natural role in any horror movie.
Amy Bruni and Adam Berry headed to the top floor where footsteps are heard and apparitions are seen.  They set up a laser grid which would allow them to see any type of mass that breaks the lights of the grid covering the hallway.  During this time they were both hearing voices and so they called out for George Clark and asked him to bang on something, what they got was a door slamming that was very audible to the viewer.  They then called out for Ann, asking if she truly put a curse on the house.  A black shadow passed by the door to the hallway that did not escape the attention of Amy.  This now backs up what others have reported.  Later in the evening the teams' camera would catch more strange shadow movement and this would be shown to the owners.  Dave and Steve would later investigate in this area and they were constantly hearing strange sounds that they couldn't track down and then somebody whistled.  Whistling seems to be common in places that have paranormal activity.  There is some belief that it is one of the ways that spirits try and communicate with humans.  Remember, it takes a lot of energy for spirits to form or interact with people so sometimes a quick word or sound is the best they can do.
TAPS felt, although there was paranormal activity going on in the house, people should not be afraid of said curse.  More likely it's just George and Ann enjoying their after life together in the home they built.
Happy Halloween Everybody!
Ghost Hunters airs Wednesdays at 9/8c on Syfy. 
Check out the archive of past show recaps here!
(Image courtesy of Syfy)
Contact Chad Alan at [email protected]