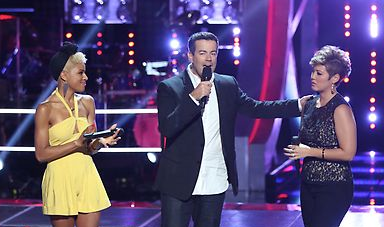 by Jessica Blackwell
Tonight, as the Knockout Rounds began, the contestants on The Voice faced their most important performance yet. To prepare, they got to work one on one with their coaches for the first time, and they got to choose their own songs! Even though the performers do have a lot at stake, unlike the contestants on past seasons, they have the opportunity to be stolen during this round! Here are the best performances of the night: 
Amber Nicole vs. Josh Logan - Team Christina
Amber chose to perform "Mamma Knows Best" by Jessie J, a sassy girl power anthem. It was a great song choice, but I think her voice would have benefited more from a low key song, with some power moments. Instead, her vocals fell flat at times when she couldn't keep up with the song. Josh went with the soul genre and sang Stevie Wonder's "Living for the City". This song turned out to be a great choice for his voice, and his resemblance to Stevie's voice was uncanny. Josh ended up winning the round, but Blake and Cee-lo both pressed their button to steal Amber. Lucky for Amber, she gets to move on with Team Cee-lo, and hopefully she picks a better song next time around. 
Holly Henry vs. Nic Hawk - Team Blake
Instead of taking the easy way out, Holly chose a very challenging song for her first real solo performance. Singing "Creep" by Radiohead, Holly blew the crowd away with her beautiful voice. She looks sweet and innocent, but is clearly willing to take risks with her song choices. Nic, who's been one of my favorites from the start, decided to take a gamble and perform Christina Aguilera's "Genie in a Bottle". It's always a risk to perform a judge's song, but he changed up the arrangement to make it more of an R&B song with a slight Reggae feel. It was really cool, and although true Christina fans don't listen to her first album, I would listen to that version in a heart beat. His risky choice won him a ticket to the live shows, as Blake picked him as the winner. 
Ashley Dubose v. Tessanne Chin - Team Adam
These two girls are amongst my favorites in the competition and they both earned four chair turnarounds in the blinds, so I knew their performances would be good. Ashley wanted to show off her lighter, fun side, so her song choice was "Hey Soul Sister" by Train. Her performance reminded me of that Bluesy, coffee shop rasp that just calms your soul. Tessanne can do no wrong in my eyes, and ripped her rendition of Kelly Clarkson's "Stronger".  The girl is so smart, that she even added an extra part at the end to showcase her amazing vocals. Adam chose Tessanne as the winner, and I was shocked to see that no one stole Ashley. 
Cole Vosbury vs. Jonny Gray - Team Cee-lo
This duo got a lot of love as they took the stage tonight. Adam even proclaimed that they were his biggest regrets.  Cee-lo ultimately paired these two guys together because they both have grass roots appeal, but they made very different song choices. Cole chose the relatively unknown, but beautiful ballad "Let Her Go" and Jonny picked "We Can Work it Out". Both guys did amazing in their own ways - so amazing in fact that they're both moving on in the competition. Cee-lo chose Jonny as the winner, and a lucky Blake stole Cole! 
Tomorrow night the Knockout Rounds continue with only 2 steals left in the ENTIRE competition! Stay tuned! 
The Voice airs Mondays and Tuesdays at 8pm EST on NBC. 
(Image Courtesy of NBC)