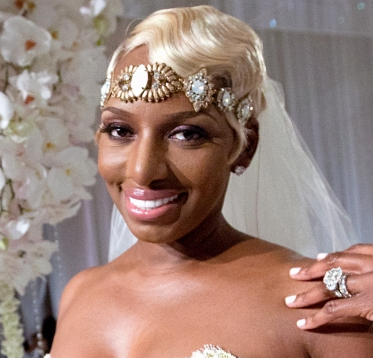 by Gina Scarpa
The stress is building as we're just days away from the wedding on I Dream Of NeNe. There's fittings, family members with nothing to wear, wedding info leaked to the press, and that pesky prenup! Fortunately, one major issue has been put to rest.
Gregg and Nene bring all of their children together for a touching family dinner. It's clear that huge progress has been made and maybe Dr. Jeff did end up helping work some things out between everyone. It looks like it's going to be a family affair at the wedding, until NeNe's dad emails her and says he's decided not to come. An email?!
The day of the wedding, NeNe finds out that some of her friends have tweeted pics that need to be taken down. In Touch and Life & Style had exclusive rights to the event, so she's got another fire to put out. On top of that, there's paparazzi waiting in the lobby of the venue, so the bride-to-be has to trek all over the place just to make it to the ceremony and reception without being seen.
All of the normal pressure you'd expect to feel on your wedding day, plus the added pressure, gets to NeNe as she's heading to walk down the aisle. While her bridesmaids head into the ceremony, she needs a minute to collect herself. She pulls herself together, though, and makes an amazing entrance that overwhelms Gregg.
Judge Mathis presides over the ceremony, which is beautiful, funny, and touching. Gregg even stops the ceremony right before the end to profess his love one more time. He already did though when, just hours before the wedding, he handed over the signed prenup, showing that he's truly committed to her.
The reception was full of Bravo stars including housewives from Atlanta, Miami, and the OC, as well as the Fashion Queens, and "Patti Stranger". The only thing funnier than that on screen typo was the wedding DJ screaming NeNe and Gregg's names over and over as they entered.
The night ends with a surprise back in their room. Marlo and Diana (yes, you heard me correctly) teamed up to decorate the newleyweds' room with rose petals. Judging by the way we left NeNe and Gregg at the end of the night, it seemed like romance was definitely in the forecast!

(Image courtesy of Bravo)
Follow Gina @ginascarpa