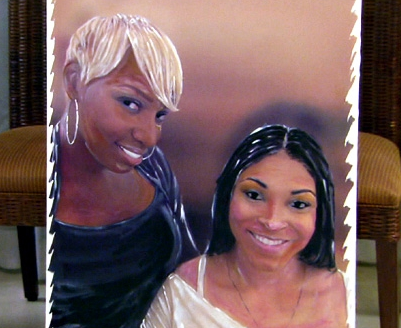 by Gina Scarpa
We are t-minus 10 days from the wedding on I Dream of NeNe and it's time for the bachelorette party! NeNe packs up the ladies and heads to Cancun for some fun in the sun, starting with a surf pool and a swim with dolphins. The bride-to-be doesn't participate in either activity, as she's much happier with a cocktail in her hand watching her bridesmaids act crazy.
Back at the hotel, an unnecessarily huge painting arrives of NeNe and Diana. She couldn't have really gotten her that as a gift, could she? It seems like a joke, and it REALLY seems like something Marlo would do, but nobody confesses. There is no way NeNe is hanging that anywhere in her house.
Diana throws a blue party for NeNe, which basically means that all the women dress is blue so that the bride stands out. Either Marlo didn't get the message or she just didn't care because she wore whatever the heck she wanted. The women each read NeNe a heartfelt letter, and the tears were a-flowin', but then it was time to throw some shade.
Cynthia called out Marlo for not participating, and who can blame her for feeling offended? Marlo doesn't respond until the next day, when she says she felt attacked, but NeNe's had enough. She puts her bridesmaid in her place and tells her she needs to be part of the team STAT.
While a tailor visits Gregg at home to get his tux ready, the seamstress is flown to Cancun for another fitting. When NeNe sees all of her ladies in their dresses, she can't help but break down. It looks like things are starting to come together, but the sneak peek of the finale shows us that the drama isn't over quite yet. Oh Gregg, just sign the prenup already!

The finale of I Dream of NeNe airs Sunday at 8/7c on Bravo.
(Image courtesy of Bravo)

Follow Gina @ginascarpa