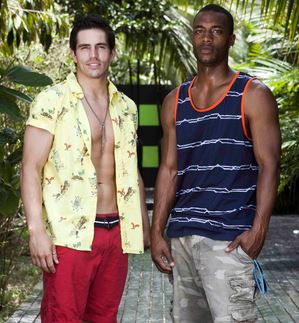 by Gina Scarpa
It's rare to see rookies do well on The Challenge, given that they're always the target for elimination, but Jordan and Marlon broke the mold this season on Rivals 2. The Real World: Portland duo formed good relationships in the house, performed well in challenges, and won eliminations when it counted, taking them all the way to the final. Unfortunately, they didn't make it to day 2, missing out on their chance to cross the finish line, and we took a look back at the entire season when we talked to Marlon.
Q. Gina, RealityWanted: You must have been excited when you got the call to do The Challenge, especially considering you're a former college athlete.
A. Marlon: Oh yeah! It's like being right at home, competing for a goal. That's what I've been doing my whole life. Now, I'm just competing for a bunch of money.
Q. Gina, RealityWanted: You and Jordan definitely got into it during your season of The Real World. How was your relationship with him when you came into Rivals 2?
A. Marlon: I mean, the thing with us is that we're not rivals in the sense that we hate each other. We just compete against each other at all times. If he's number one at something, I'm trying to beat him. We're rivals in the sense that we're competing with one another.
Q. Gina, RealityWanted: It's amazing that you guys, as rookies, made it to the final. How did you avoid getting sent into the elimination rounds every time?
A. Marlon: I mean, I think when we first got there, we kept quiet. We just made friends with people, we stayed under the radar, and we floated in the background. A few clutch wins to help put the game in our favor at the right moment helped. We won two elimination rounds and we definitely deserved to be there at the end.
Q. Gina, RealityWanted: Things between you and Knight got off to a rough start, especially when he was mocking you during the "Who am I?" game. Do you feel like he was trying to get in your head and maybe even eliminated if you ended up punching him?
A. Marlon: Nah, Knight's just a jerk. That's just his personality. I've come to learn, because I never knew Knight, that he's just going to say the most inappropriate thing.
Q. Gina, RealityWanted: You and Jordan did so well this season and then you miss making it to day two of the final by a few minutes. How did you handle that loss?
A. Marlon: I felt cheated, honestly. I don't think there's ever been anybody that's made it to the final and wasn't given the chance to do the entire thing. We couldn't solve a Tetris puzzle. We could've ran better, we could've ate that nasty food, and Johnny and Frank didn't even finish the whole final. I just felt cheated.
Q. Gina, RealityWanted: Who are you going to stay in touch with beyond just seeing each other for the show?
A. Marlon: Me and Jordan are real good now. We really, really keep in touch and stay in tune with what the other has going on, career wise. Nany and I are cool, we chop it up. Me and Jemmye are cool. I'm trying to link up with Jaz. Those are the people I'm cool with.
Q. Gina, RealityWanted: The reunion was pretty uncomfortable at times, and that's saying a lot considering the tension at your Real World reunion. What did you think when you were sitting on stage with the other teams and Jonny Moseley?
A. Marlon: Man, I was cool! I didn't do nothing too crazy, I just sat back. The whole Knight thing and then CT was swaggin' extra hard... I'm kinda glad he did it because if he doesn't wanna talk about it, then that's what it is. Get off his back. The Knight thing I wasn't feeling. He could've got his point across another day. He's a grown man, he's gonna do what he feels. The ratings had to be good, though! Nobody was expecting all that.
Q. Gina, RealityWanted: I assume you'd like to come back for another Challenge, but is there a format that you'd prefer?
A. Marlon: I think, on my own skill, I'd definitely like to go in by myself. I feel like if you have a partner, you have that risk of being put with someone who sucks. If you have Sarah, she has that voodoo where you're sent home for some random reason. I'd definitely like to go into a Challenge on my own.
Q. Gina, RealityWanted: Anything exciting coming up?
A. Marlon: Yeah, I'm actually doing two performances this weekend. I'm working on my album that I wanna release early next year. I'm getting some calls for modeling so that's pretty dope. I can't really complain! Other than that, just running my clothing line. I sell custom t-shirts that I design myself. I'm trying to be a young mogul.

(Image courtesy of MTV)

Follow Gina @ginascarpa