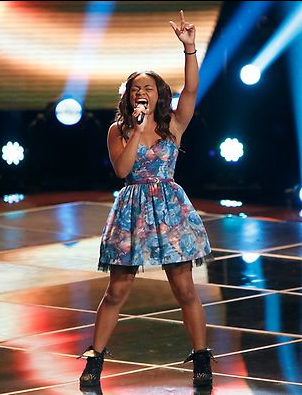 by Jessica Blackwell
The battle rounds heated up this week as the coaches fought for the best artists. Blake upped the ante a bit but displaying the three trophies her earned from winning on his seat, but that backfired on him when the other coaches started backing each other up and going against him! 
Ray Bordreaux
Becoming a father at the young age of 22 slowed his dreams down, he finally decided he was ready to give music his all and pursue his dream on The Voice. He's got a smooth, soulful voice that is sure to push him along on the competition. Despite really connecting with Cee-lo, he chose Blake as his coach! 
Lina Gaudenzi
This contestant went from following in her mother's footsteps as a model, to discovering that her true love was music. She performed Fleetwood Mac's "Landslide" and it started out a bit shaky, but her voice revealed it's true range in the end. She turned Christina and Blake's chair and despite his trophy display, she chose Christina. 
Timyra-Joi
I don't know what took the coaches so long to turn their chairs! Christina turned right away for this 15 year old should singer, but Blake and Cee-lo didn't press their buttons until the very last minute. Rewarding her loyalty, Timyra chose Christina. 
Briana Cuoco
Working as a personal assistant to her famous sister Kaley Cuoco, Briana is long overdue for her big break. She definitely needs some development with her talent, but she has a really strong voice. Both Christina and Cee-lo turned their chairs around, and she chose Christina. 
Preston Pohl
The last and best performance of the night, his performance of MGMT's "Electric Feel" turned Adam, Cee-lo, and Blake's chair right away. He has a unique raspy voice and is inspired by music of all genres. I thought he and Cee-lo were a match made in heaven, but he picked Adam! 
Honestly, tonight's blind auditions didn't hold a candle to last week's rounds. There were some good singers, but hopefully there are some spectacular ones tomorrow night.Stay tuned!  
The Voice airs Mondays and Tuesdays at 8pm EST on NBC. 
(Image Courtesy of NBC)