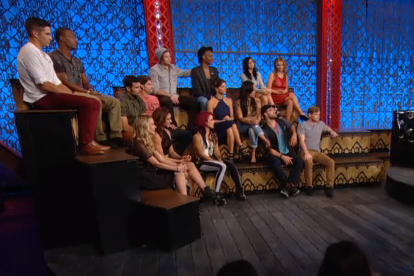 by Gina Scarpa
Wednesday night, CT and Wes were the first to cross the Rivals 2 finish line for the guys while Paula and Emily arrived first for the girls. Both teams took home a $125,000 grand prize and later sat down with many of the teams for a live reunion with Jonny Moseley. Before we get into the drama, can I just ask: how many of these people pre-gamed? A few, I'll tell ya that!
Not only is it CT's first win, it's Emily''s too, but he gets more of the glory because it took him nine tries. He and Wes do seem to have buried the hatchet, but money will do that to people. Hopefully, the love can last! Camila and Jemmye, on the other hand, haven't necessarily repaired their relationship. Even though they say they have a sisterly bond, it's more of a love/hate relationship - mostly hate.
Speaking of hate, Knight and Frank go at it over their Twitter war following the show. When things get a little too heated, Knight slapped him to start a fight and everybody jumps to break it up. The New Orleans alum is dragged off set while we head to a commercial break to cool off. Deep breaths, inhale, exhale...
Diem takes a lot of heat for her behavior this season but what people don't understand is that she was on a lot of medication and had been through so much with another round of chemotherapy. Jemmye still calls her out for her fake behavior in the house, but says that's not how she is in real life.
An fan on Instagram asks if there were any female hookups in the house and Emily was clearly involved with someone but it's a big mystery as to who.
The conversation shift back to Frank, and Jemmye says that they're actually in a good place and he's totally different outside of the house. Jordan jumps in to say the two of them get a lot of heat because they speak honestly and it's just not always well-received. That's an understatement.
Diem and CT hit the hot seat with Jonny and sit as far apart as humanly possible.   This season, CT hooked up with Anastasia, Nany, Cooke, and Diem but he says he was just trying to win the game.  He's super defensive while Jonny tries to ask them questions about their relationship, making things a whole new level of awkward. 
Jonny takes a look back at some WTF moments, from Aneesa calling Trishelle "Trashelle" to the Camilinator making a return to the Challenge house.  Before we say goodnight, there's one more Instagram question which is: What did Frank say about Jemmye that made Knight slap him?  Frank doesn't want to repeat it and says it's over... just like this season of Rivals 2.
Which concept would you like to see for the next Challenge?

(Image courtesy of MTV)

Follow Gina @ginascarpa