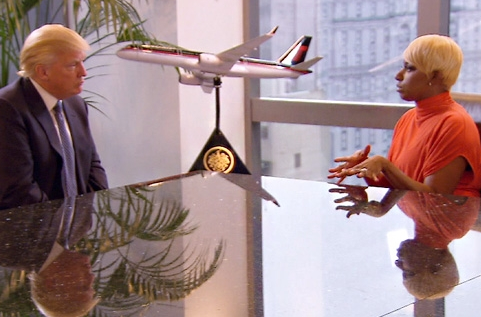 by Gina Scarpa
Considering that she's not getting anywhere with Gregg, NeNe has decided to consult the one and only Donald Trump about a prenup. The worst part is, that's not the most complicated matter in getting this wedding off the ground. Gregg's kids can't stand his bride-to-be (again) and that's something that just has to be addressed. The problem is that Gregg doesn't want to talk about the prenup, Gregg doesn't want to talk about his kids, Gregg doesn't want to talk about anything!
Before we can get to that, first up is a meet up with the groomsmen, who NeNe needs to get into shape before they don some tuxedos on the big day. She then meets up with a few of her bridesmaids, but they're not thrilled to hear that they're not the only ones on the list. In fact, there's going to be nine of them which can only lead to drama, drama, drama.
NeNe pays her son a visit, who admits that he wouldn't mind if she were home more but she's got a career on the rise. Well at least her child wants her around, because some of Gregg's kids certainly do not. NeNe went into a Leakes family meeting with good intentions, but things quickly got heated once dinner was over and the conversation started. It probably didn't help that Dr. Jeff was in the mix since we all know how Gregg feels about him.
Gregg's oldest son Damien gave a very hurtful interview on a local radio station, but apologizes for it.  NeNe tries to blame Gregg fully the lack of communication between the families but Damien jumps on her for not making an effort with the kids either.  Of course, she jumps on the defensive and before you know it, both people are shouting at each other.  As Damien walks out, it's clear this meeting has taken a wrong turn and Dr. Jeff has zero control over the situation.
I Dream of NeNe airs Tuesdays at 9/8 on Bravo.
(Image courtesy of Bravo)

Follow Gina @ginascarpa