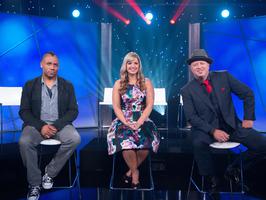 by Kylene Hamulak
We're so close to crowing the Next Food Network Star I can almost taste it - am I the only one who gets hungry watching these shows?
Before we learn the winner, however, we're going to be reminded about things like how awkward the movie trailer challenge was and how much everyone hated Danushka. Remember Danushka? Were you trying to forget her? Well, when a Skype caller asks what could have made her stand out from the remaining contestants, she FINALLY figures out what her schtick is: her BAD attitude.
Well, I guess that's progress.
Before the reunion continues Bob from the network announces that Russell has not gotten enough votes to move to the final round, leaving Rodney and Damaris vying for stardom. Russell says the competition changed his life for the better, and we're treated to a montage of his "greatest moments." I use the quotes because it's a lot of him talking about culinary sins and a revolution and naming the things he likes to eat.
Remember when Robert Irvine was eliminated all the chefs twice, one-by-one, before giving Lovely a second chance at Food Network stardom? We get to see it again. It's also fun to watch the reactions of each of the contestants as footage rolls of each of them "talking smack" about the competition. Oh, sure guys - it's all fun and games now, but you know you don't want any of your new "friends" in YOUR kitchen.
Oh, by the way? Nikki Dinki is six months pregnant. Soooo...yep.
As it turns out, despite being super serious most of the time on the show, Giada, Bobby, and Alton are apparently very entertaining when they don't have to be "mentors." There's a sibling-like bond between the three of them, particularly Giada and Alton, and it's a good thing they get along - I think I'd be tempted to start a food fight if Giada insisted on correcting the way I say things as often as she does the guys!
So it's down to Damaris and Rodney. Honestly, watching the recap of their season, it's still hard to believe EITHER of them made it to the finale! After a couple months, I tend to forgive how awkward Damaris was (even if she still gives me second-hand embarrassment!) and I've stopped trying to understand better than half of what comes out of Rodney's mouth. But which one gets the chance to bring their show to the Food Network?
Damaris!
Well, with all of Paula Deen's recent issues, Damaris's Southern charm might be a great addition at just the right time!
That's it for this season of Food Network Star - stay tuned to Reality Wanted for all of next season's updates!
(Image courtesy of The Food Network)
Follow Kylene on Twitter @keepingupwithky!