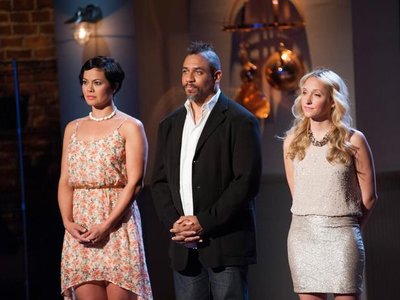 by Kylene Hamulak
The final five contestants vying for the title of Food Network Star are sizing up their competition as the show opens, right before Alton presents them with their first challenge: cooking up a dish with a pantry stocked with typical household products.
Mentor Challenge - Solve the Problem in the Pantry: Develop a tasty dish using the items found within the pantry, which includes cereals and snacks. Damaris and Rodney are assigned breakfast, Nikki will have lunch, and Russell and Stacey will prepare dinner. They will then have one minute to present their dishes and a tip on solving the problem.
Rodney, Breakfast Pie with Special K Popcorn Chips Sweet and Salty: Rodney seems confident in his breakfast pie, but Alton reminds him to give the audience useful information. Unfortunately, though he presents well, he forgets to give his tip.
Damaris, Special K Multigrain Cereal Crusted French Toast: Though Alton is questioning Damaris' ability to make French Toast, she's ready to teach her methods. Her pitch and her food is very good, though Alton suggests that she could've been clearer about the problem.
Nikki, Salad with Special K Red Berries Cereal Salad: Alton warns Nikki that her big issue is that she can't answer the question "why?" Well, that's not her only issue. Her croutons are burned to a crisp, so she changes her plan to a straight salad sprinkled with cereal with seven minutes remaining. She panics a bit going into her presentation but manages to pull it out. It's not perfect, but it's not bad, and Alton calls it a "really good salad."
Stacey, Mom's Special K Vanilla Almond Cereal Chicken : As she has all season, Stacey tells us that, as a working "gourmet" mom, making delicious meals out of household items is what she does best. Alton tells her she has "intimacy issues," which catches Stacey off guard. Her presentation goes very well, and Alton can tell that she was more at ease. Her chicken gets a thumbs up too.
Russell, Steak Salad with Special K Popcorn Chips Sea Salt: Russell's challenge from Alton? "Finish as strong as you start." He does an ok presentation - there's not much to critique, but I didn't really find it very engaging either. Alton does like the dish, and Russell thanks God that he's getting better at "this".
The winner of the challenge is Stacey, so she will have an advantage in the next challenge.
Star Challenge: Restaurant Impossible comes to Next Food Network Star! Robert Irvine meets the contestants at Phil Trani's Restaurant, which is in need of a menu overhaul. As each dish is presented to the contestants, Stacey will have the choice to either choose it for her challenge or assign it to one of her competitors.
Rodney, Chicken Cacciatore: Rodney is preparing this chicken cacciatore "pie style", which apparently means a giant mess in the kitchen. Frying his "pies" doesn't work very well, causing very inconsistent cooking - Alton notes that his tastes raw. Phil Trani comments that the idea might work, but it won't work in his restaurant.
Damaris, Tournedos of Beef & Mashed Potatoes: Not a big fan of steak to begin with, Damaris doesn't love working with the meat. The steak, however, is not what she's worried about - it's the "smashed" potatoes, the skins of which are causing a grittiness that makes them nearly unservable. She manages to present a dish that is described as "ok," but the table really likes her personality.
Russell, Stuffed Chicken and Rice Pilaf: Russell doesn't just want people to perceive him as the "bacon bourbon dude." A good way to make sure that doesn't happen is to stop talking about bacon and bourbon all the time. He does well with the challenge - the table enjoys him, his presentation, and, most importantly, his dish.
Nikki, Roasted Salmon with Onion Pepper Relish and Rice Pilaf: Ah, Stacey has identified Nikki as her toughest competition, so of course she stuck her with the dish she'd least want to make - Nikki HATES salmon! Her dish actually looks good on the plate, but, unfortunately, when she's asked about it, Nikki again does not demonstrate any authority when she answers. It's too bad - her salmon gets good reviews, though the dish itself (and her presentation) could be improved.
Stacey, Crab Stuffed Halibut with Baked Potato: Stacey picked this dish for a reason - she's totally confident in what she's doing. Trouble is, Stacey usually seems confident, and it's off putting. Alton notes again after her pitch that he's just not connecting with her, and the guest judges from the restaurant use the word fake. Beyond that, her plate gets mixed reviews, most of them slightly negative.
Evaluation:
Russell's Spinach Wrapped Chicken is declared the winning dish for the challenge, making him safe from elimination.
Up for Elimination: Stacey, Rodney, Damaris, and Nikki are all at risk, as the judges will be discussing who they want to send over to the network for review to move on to the final stage. Nikki is criticized for lacking the authority needed to get her point of view across, even though they do like her and her view. Stacey has a problem connecting, Rodney has been inconsistent, and Damaris? Well, she's solid, they say, but is that enough?
After telling them all that they're likely to go far, Alton announces that Nikki has been eliminated.
The final four are Stacey, Rodney, Russell, and Damaris. And honestly? I'm not sure I'd tune in to cook with any of them.
Catch The Next Food Network Star every Sunday at 9/8c on Food Network!
(Image courtesy of The Food Network)
Follow Kylene on Twitter @keepingupwithky!