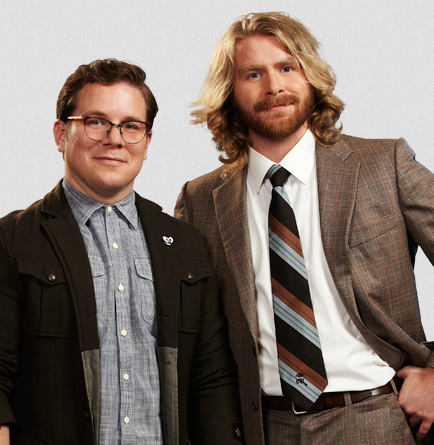 by Gina Scarpa
It's been a long time since we've seen American Idol's Jon Peter Lewis and when he showed up nearly a decade later as one half of the folk duo Midas Whale, he was almost unrecognizable. The pair grabbed the attention of all four coaches on The Voice this season, and they ultimately decided to work with Adam. He chose them as the winner of the battle round, something few duos have been able to achieve over the last four seasons. We talked to Jon and Ryan yesterday, prior to their knockout round episode airing, about appearing on reality tv, being a duo in the competition, and the fans that are supporting them along the way.
Q. Gina, RealityWanted: Jon, after doing American Idol, what brings you back to reality tv almost 10 years later?
A. Jon: I decided to be on The Voice because... well, I hesitated at first to be honest with you, just because of American Idol. When they said I could do a duo, I thought that would be really cool. We could do a lot of different things, and duos have an advantage over a solo artist. You can feed off of somebody. It's a different vibe, it's cool.

Q. Gina, RealityWanted: When did Midas Whale first form and what you were doing musically right before auditioning before The Voice?
A. Ryan: We formed in 2010 and musically, we have been collaborating on a rock opera for two years, almost three years!
A. Jon: We performed as Midas Whale specifically for the voice.

Q. Gina, RealityWanted: Every coach turned around for you during the blind auditions. Was that something you were expecting? What made you go with Adam?
A. Jon: I was not expecting that at all. I was hoping we would get somebody. What they don't show you... and here's a little information for you. We did the song twice during the blind audition because we sang it the first time but my microphone wasn't working. Nobody turned around and right as we ended, they stopped everything. We had to go off stage and come back on again. My microphone was on and we went from zero to having all four coaches turn. It was weird! When they did start to turn, I was elated just that somebody turned, and surprised it was Usher. When the others followed suit, it was amazing.

Q. Gina, RealityWanted: In the past, duos have not done well in the competition and only one duo has ever made it past the battle round prior to this season. Did that make you nervous going into your battle against Patrick Dodd?
A. Ryan: We were far from nervous going into the battle round. We wanted to put on a good show. We're with one of the other big stars of the show, Patrick. We wanted to have a good time!
A. Jon: I just want to say that I was nervous!

Q. Gina, RealityWanted: What do you have in store for the coaches and the viewers for the knockout round?
A. Jon: Something a little unexpected!
A. Ryan: A lot of energy!

Q. Gina, RealityWanted: How have the fans of The Voice been to you?
A. Jon: The fans have been pretty amazing actually. We do stay in touch with them on Twitter @midaswhale and people have been overwhelmingly positive for us. I've found that we don't have very many crazies.

The Voice airs Mondays and Tuesdays at 8/7c on NBC.

(Image courtesy of NBC)

Follow Gina @ginascarpa