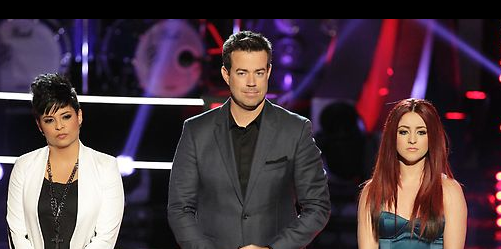 by Jessica Blackwell
Now that the Battle Rounds have been completed, it's time for the Knockout Rounds. They are similar to the Battle Rounds, but the two acts perform two different songs, one right after the other and tackle their first solo performances. There are no steals or saves, if you don't win the Knockout, you're out of the competition. Sheesh! Tonight, Team Adam and Team Shakira were in the hot seat as they competed for a coveted spot in the live rounds. 
Amber vs. Midas Whale - Team Adam
In a change from the battles, Adam chose this pair because of their differences. Amber chose to sing "I'm With You" by Avril Lavigne, while Midas Whale chose to venture away from their Folk roots and sing "Higher Ground" by Stevie Wonder. Both acts did a great job, but Midas Whale has a quirky personality, and they really brought that into their performance and won the crowd over. In the end, Amber's vocals carried her to the next round! 
Garrett vs. Tanya - Team Shakira
Garrett wanted to change his style up from the usual raspy ballads he's been doing, so he chose "Too Close" by Alex Clare. Tanya stayed close to her roots and performed "Hell on Heels" by Pistol Annies. Maybe I just loved the sassy girl power song, but I loved Tanya's performance. Her ending was epic, and the crowd loved it. I couldn't believe it, but Shakira chose to go with Garrett because she just felt he had that star factor. 
Amy vs. Caroline - Team Adam
Amy sang "House of the Rising Sun" by The Animals and she ripped her performance to shreds! Man, that girl has a powerhouse voice. Caroline chose to sing "Little Talks' by Of Monsters and Men, and she told Adam that she was nervous that her voice wouldn't be up to par against the other singers on his team.  As Amy was performing, you could tell that Caroline was getting intimidated by her powerful voice. Even though she was nervous, she did her best, and it turns out that she and Amy are best friends! Even though Amy took more risks, Adam chose Caroline to carry on. 
Chris vs. Mary - Team Shakira
Chris chose a unique song for his register, "What a Wonderful World" by Louis Armstrong, who had a famously deep voice in contrast to Chris's girly falsetto. I wasn't too sure about this song choice, but his performance was beautiful! Mary also chose an unusual song, the ultimate stalker anthem, "Every Breath You Take" by the Police. This was the first english song she sang on the show, and she really showcased her beautiful tone, however, her bubbly personality was noticeably missing. In the end, Shakira couldn't deny Chris's wonderful voice and she picked him as the winner. 
Judith vs. Orlando - Team Adam
Anyone who goes up against Judith should be scared senseless. I've said it before and I'll say it again: this girl is guaranteed top five, maybe top three, if not the winner of this competition. Poor Orlando! She chose to sing"Always on my Mind" by Willie Nelson and Adam really couldn't even coach her, because she's that good. Of course, she blew her performance out of the park. Orlando gave us his take on K-Ci and JoJo's "All My Life" and it was amazing, but as Usher put it, not aggressive enough for the Knockout Rounds. In a shocking move (sense my sarcasm?), Adam chose Judith, so the other contestants can continue to shake in their boots at the thought of going up against her. 
Karina vs. Monique - Team Shakira
Calling these two her powerhouse Latinas, she pitched these two singers against each other to see who had more versatility. Karina stuck with rock and roll and sang "Are You Gonna Go My Way" by Lenny Kravitz and Monique took on the Celine Dion ballad, "The Power of Love". Whew! Shakira had a tough choice, because both of these ladies did great! Their performances were passionate and vocally stimulating in different ways, but Shakira picked Karina to move on to the live shows. 
Sarah vs. Warren - Team Adam
Warren, much to Blake's dismay, broke away from country and sang "I Just Died in Your Arms" by The Cutting Crew. He did awesome, but Sarah, who performed "Wild Horses" by The Rolling Stones gave her heart and soul. To reward her, Adam chose her to represent him in the live shows. 
Sasha vs. Shawna - Team Shakira
Sasha made a brave choice by taking on "At Last" by Etta James. I always cringe when singers choose this song because if you ain't Etta, Christina, or maybe Beyoncè, chances are you are not pulling it off. I was pleasantly surprised at Sasha's performance, because she took the song and made it her own. Her ending high note made her a tough act to follow, but  Shawna stepped away from rock n roll to perform "Maybe I'm Amazed" by Paul McCartney, and held her own. Sasha should be lucky she gave Shakira goosebumps because that saved her butt! She'll be moving on to the next round. 
Adam is going to the live shows with Amber, Caroline, Judith, and Sarah. Garett, Chris, Karina, and Sasha will be reppin' Team Shakira, and I can already tell this is going to be a close competition. 
Tomorrow night, it's Team Usher and Team Blake's turn to be in the hot seat! Stay tuned for a two hour Knockout Round presentation! 
The Voice airs Mondays at 8pm, EST on NBC. 
(Image Courtesy of NBC)