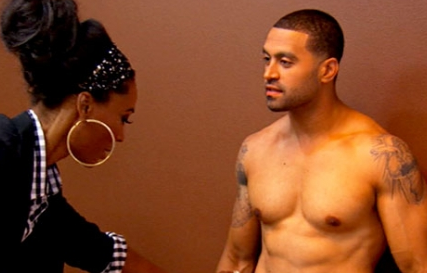 by Jessica Blackwell
Since all the Housewives' franchises have never ending seasons, all was not lost when the third installation of the RHOA reunion aired. Tonight, we tuned into watch the lost /secret footage of the season for some gasps and some laughs. 
NeNe and Cynthia: Are they, or aren't they?
Apparently, there were some rumors flying around this season that these two ladies were ahem... more than friends. Kenya told Cynthia that Porsha insinuated it, but from what we know of Kenya now, it was probably bullshiz. Whether they are or aren't ,we got to see some drama between Cynthia and Porsha that we didn't know happened when Porsha confronted Cynthia about believing what Kenya said. She got a little too brolic for mine and Cynthia's taste. 
The Boob Grab
While they were getting massages, Kandi, Kenya, and Phaedra started talking about the size of Kenya's breasts. Kandi didn't believe they were real (neither did I) so she reached across Kenya's table and squeezed her boob to verify it. I guess they are real, surprise, surprise! 
Phaedra's Odd Business Venture..
Although Ms. Southern Belle has a fear of dogs and other live small animals, she thought nothing of handling a deceased pet! Earlier in the season if you remember, Phaedra declared she was going to launch a business doing extravagant funerals for those who wish to send their pooches off in style. In one of the secret clips, we got to see Phaedra execute one of her funerals, and her mother even delivered the eulogy! I know Phaedra is all about the money, but her goals seem a little, uh, far fetched. She should probably hang with Kandi, she seems to put her money into all the right projects. 
The Poop Debacle
Although Kenya believes her kissing pooch Velvet can do no wrong, she certainly pooped in Kandi's brand new house. When the poop turned up on the floor, Kenya denied that her precious Velvet could produce such a thing. Kandi performed the wipe test, and Velvet came up dirty! Time to train that dog to do more than french kiss you, Kenya! 
Apollo's Model Swag
Phaedra's husband's boyish good looks were the topic of many conversations this season. Since he seems to be a jack of all trades like his wife, he decided to venture into the modeling world and enlisted Cynthia to help him. Kenya famously remarked that the light-skinned Apollo looked like Tyson Beckford, so Cynthia put them side by side. Not that I had any doubt, but they look nothing alike! 
Kim's Family Drama
Although all the ladies were happy to see Kim go, she was dealing with some real issues at home. Her daughter Brielle was dealing with bullying at school, and her mother's fame was undoubtedly making it worse. Kim was able to relate to her daughter by sharing her experience when NeNe choked her, and give her some good advice: "Past behavior is a good indicator of future behavior". 
After the "secret" scenes were aired, Andy asked each housewife what was on her current agenda. Despite being blasted by Kenya for not being independently made, Porsha is trying to start her own home decor line. Phaedra will be giving birth and working on projects she refused to name in fear that "someone" will steal them. Kandi will be getting married and working on her many businesses. Since her hair is so fabulous, Kenya will be starting her own haircare line. Cynthia will continue working on her pageants, and may have a little competition from Kenya. Miss NeNe will be continuing her work on "The New Normal" and "Glee", as well as planning her upcoming re-nuptials to Greg. 
Well, that's a wrap ladies and gentleman. See you next season! 
The Real Housewives of Atlanta airs Sundays at 8/7c on Bravo. 
(Image courtesy of Bravo)