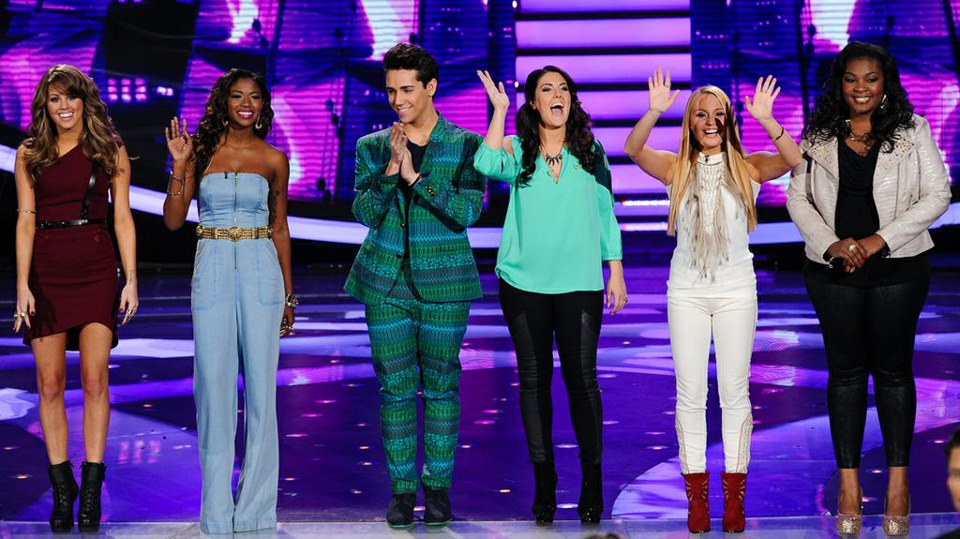 by Kylene Hamulak
Everyone is thinking it, even if they won't at admit it - tonight's American Idol is all about whether or not Lazaro forces the judges to use their save on one of the ladies. Kelly Clarkson is back, and so is Scotty McCreery, plus the emotion of results - gonna be a roller coaster night!
That's What Idols Are For: When they the show would begin with a Burt Bacharach/Hal David medley performed by our Top 6, apparently they meant the Top 6 getting solos and an assortment of back up singers helping them out. The ladies are great, but Lazaro seriously gets worse every time he has to open his mouth. The highlight of the medley is a duet by Amber and Candice on "One Less Bell to Answer" - I think maybe Candice just makes everything better. "That's What Friends Are For" by the entire group takes me back to a lot of high school banquets, and it sounds a little like my friends and I blaring it out at the top of our lungs, arms in the air as we all swayed together.
Ford Fiesta Mission: This week's mission is the Fiesta Shoot Out, putting the Idols in teams and challenging them to use the cars to score goals with a giant inflatable soccer ball.  Kree, Angie and Amber's Green Team wins the game 2-1.
Results Time...just kidding: Kree, Angie, and Lazaro, last week's Top 3, are the first to get results. Jimmy thinks Kree needs to show more personality to win the show, and calls Angie "competent" but not the best of the night. Jimmy calls Lazaro's performance "an Ambien milkshake." He says he'd rank him 10th...even though there's only 6 left in the competition. Ryan announces that the Idols will be put into pairs tonight, and sets these three across the stage. Despite promising us results, Ryan gives us no other information about where last week's Top 3 placed this week.
Unlock Them Doors: Scotty McCreery is back in the Idol house! Even though he's become something of a Country superstar, Scotty is currently a student at North Carolina State University and touring on weekends. He performs "See You Tonight," his new single.
Results...again: Ryan tells us Janelle is the next to get results, but I ask you - what results have we gotten? Standing is NOT a result, Ryan. Jimmy thinks Janelle needs to make songs her own instead of doing a literal interpretation. She joins Angie on the far side of the stage. Candice is leading the competition, according to Jimmy - he gives her performance a 10 of 10 - and she is sent to stand with Kree, leaving only Amber on the seats. Jimmy thinks she's the entire package and doesn't understand why America doesn't get her. She's sent to Lazaro, and we're told one is the Top 2, one is middle, and one is the bottom.
Blast from the Past...and Future: We get to see Kelly Clarkson's audition footage, which features a cameo from Brian Dunkleman and Ryan's very frosty hair. She's back to perform her new single "People Like Us." It's a futuristic black lit set, and there are glowsticks in the audience, and all of a sudden, Idol is a Kelly Clarkson concert! She's great. America has made a lot of bad choices on this show, but we got it right with her. And you know what she does at the end? She totally fangirls for Mariah Carey. "Havin' a moment," Kelly says when Mariah comes up to hug her.
Results...for real: Kree and Candice are announced to not only be SAFE but also the Top 2. Ryan tells us that Lazaro and Amber are the Bottom 2, which means Angie and Janelle are also SAFE. I know the judges are gonna lose their schnit about Amber, but it would've been so much worse if the other two girls were the bottom.
Lazaro is shaking his head as Ryan prepares to deliver the news - he knows. Amber is SAFE. Lazaro performs "Feeling Good," and it's a swan song for him. There's no way the judges can save him and risk him making a run for the title that's been designated for a girl since before the auditions even began.
Never before have the lyrics "It's a new dawn, it's a new day, it's a new life for me" been so appropriate. No save is used.
Final Thoughts: Ok guys, you can let out that breath you were holding waiting for results. All the ladies will be back next week. I loved Lazaro's story and enjoyed him for several weeks, but at this point, it was time to go. Happy to see Candice recognized in the Top 2, too. The only downside to all of this? We HAVE to lose one of our girls next week.
What did you think about tonight's results? Let us know in the comments below!
Catch American Idol every Wednesday and Thursday at 8/7C on Fox!
(Images courtesy of Fox)
Follow Kylene on Twitter @keepingupwithky!