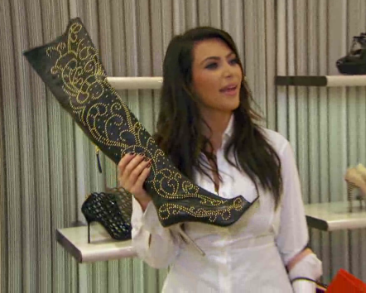 by Jessica Blackwell
In another installment of E! tries to make the Kardashians stay interesting, Scott becomes an alligator hunter! Are you rolling your eyes? Cause I am. He met Vienna from the bachelor at the club with Khloè and her parents own an alligator farm. Since he needed a new pair of shoes, he thought it was be a good idea to catch one, kill it and to have it made into loafers. What disgusted me even more than killing an innocent animal for fashion was the way he talked about the family who owned the farm. He called them another breed of humans, and then called Kourtney to lament about how there were people in the world who lived so differently than they do. Yes Scott, there are people who were not born with a silver spoon in their mouth and no, that doesn't make them less than human. 
So of course they caught one, and while they were hacking the alligator apart, it was still moving! I guess it's nerves are still alive even though it's brain is dead but it was just disturbing. When he got home, Kim and Kourtney were disgusted that he killed an alligator with a gun. He defended his choice, reminding them that he at least he used every part of the animal. Yes for shoes!! Kim has no place to talk though, she's on PETA's most hated list for repeatedly wearing animal fur and she's even been flour bombed. Scott started having bad dreams and was haunted by his actions. Maybe he'll think twice about his decisions next time. 
Kim decided that she wanted to purchase another home, and she found one that was perfect for her. Jonathan was excited because it had a huge guest house, which I'm sure he was thinking he could live in. 24/7 Kim, what a dream come true for the hanger on. When Kim was featured on the worst dressed list in a magazine that blamed Kanye for her fashion failure, she was upset. She didn't understand why everyone thought Kanye was responsible for every fashion choice she makes. Oh, I don't know Kim, is it because on an episode of Keeping Up With the Kardashians he threw out your entire wardrobe, hired a stylist for you, and picked all your new clothes? Could that be why?
Regardless, Kim decided she had to go on a shopping spree right away before she damaged Kanye's reputation any further with her horrible fashion choices. Seriously people, I do not make this stuff up lol. Despite hitting the brick and mortar stores, Kim continued to shop online despite protests from Kourtney. She didn't stop until she got a warning call from her financial adviser who informed her that she needed to stop spending frivolous amounts if money if she wanted to purchase a new home. Kourtney kept commenting on how superficial Kim was, and I hope that Kim makes a change before baby Kimye gets here, otherwise he'll have to live in her shoes! 
Next week Khloè's fertility issues come up again with talk of Kourtney being a surrogate for her plus more private eye crap from Kim. 
Kourtney and Kim take Miami airs Sundays at 9/8c on E! 
(Image courtesy of E!)