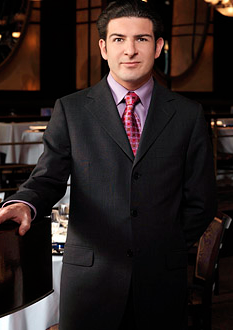 by Gina Scarpa

For the first seven seasons of Hell's Kitchen, Jean-Philippe Susilovic masterfully handled the front of house of Gordon Ramsay's restaurant on the hit television show. While Chef Ramsay screamed at his chefs and threw dishes in the garbage that didn't live up to his standards, Jean-Philippe kept guests smiling and satisfied. He left the show to go back overseas and work but returns as the Maître d' of Hell's Kitchen when the show premieres next week. We talked to Jean-Philippe in an exclusive interview about his longstanding relationship with Ramsay and find out how he runs such a tight ship at the restaurant.

Q. Gina, RealityWanted: How long have you known and been working for Gordon Ramsay?
A. Jean-Phillipe: I met Gordon for the very first time in Cannes, France while I was doing an apprenticeship for 4 months in La Palme D'or, which is a 2 star Michelin restaurant located in the luxurious 5 star Hotel Martinez. I was 17 and he was 25. I had no idea who he was, the only thing I knew was that we had some friends in common and that he was visiting the French Riviera to pick-up some ideas for the opening of his first restaurant Aubergine.

Q. Gina, RealityWanted: How did you get started in the restaurant industry?
A. Jean-Phillipe: My parents use to have a restaurant for 40 years so at the age of 7, I was already pampering guests. Since then, I can't remembering doing anything else. At the age of 20, I graduated with an extra year of specialization in wine. It was the time to step in the "real world," and so I started working for Gordon in the Aubergine in London.

Q. Gina, RealityWanted: You did Hell's Kitchen for many years before going to work overseas for a few years. What was happening in your career during that time and what brought you back to the show?
A. Jean-Phillipe: It was an extremely busy time in my life. I was running Petrus in 2004 when I was approached by the Granada team and Gordon to join Hell's Kitchen in London. We filmed the first season in London and 7 Hell's Kitchen seasons in the US. I missed three seasons because we relaunched Petrus in a different location and started a project in South Africa. In 2011, I left the company because I met my love in Belgium and decided to open my own restaurant there. I really thought that the Hell's Kitchen chapter was a past story but life is full of surprises and the Fox team and Gordon missed me so much that they asked me back.
Q. Gina, RealityWanted: So many issues often arise during dinner service at Hell's Kitchen. How do you keep things running smoothly in the front of the house?
A. Jean-Phillipe: It's all about tact in life. If guests sense fear and incompetence, they start to get nervous and worry. If you keep and maintain your cool, you create a positive energy.
Q. Gina, RealityWanted: I can think of another cooking competition where people have to run the front of house of a restaurant and often times, it doesn't go well. What does it take to be a successful maître'd?
A. Jean-Phillipe: For every issue, the resolution needs to happen quickly - a fraction of a second to respond and to believe in your answer. It's important to follow up on regular basis and to keep a smile on your face even in the worst scenario.

Q. Gina, RealityWanted: You are very popular with fans of the show. What are your interactions like with them, either online or when you meet them out?
A. Jean-Phillipe: Fans do approach me as they believe that they have known me forever, which is very funny. I see them for the very first time and they look at me like they know me inside out. They ask for a picture, they feel good about it, and are happy. Well, it's the same for me at work. I make them happy with food and wine. It's the best job in the world!
Q. Gina, RealityWanted: Can you give us a little preview of what we can expect with the upcoming season of Hell's Kitchen?
A. Jean-Phillipe: It's getting better and better, prepare yourself for the action.
Hell's Kitchen premieres Tuesday, March 11, at 8/7c on Fox.
(Image courtesy of FOX)
Follow Gina @ginascarpa