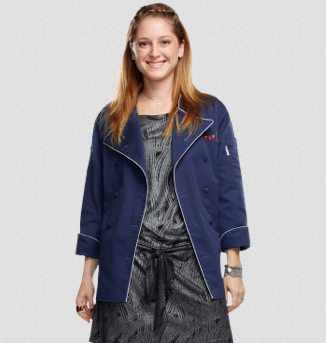 by Gina Scarpa
This season on Top Chef: Seattle, we watched as Brooke Williamson conquered fears and won more challenges than any of her other competitors. She faced off against returning chef Kristen Kish, who won Last Chance Kitchen, in the finale in a five round cookoff. Kristen ended up winning 3-1, but Brooke can't help but be proud of her journey and her dishes throughout the season. We caught up with Brooke to talk more about competing on Top Chef, being apart from her family, and the love she's received from the fans.
Q. Gina, RealityWanted: What was your motivation for doing Top Chef?
A. Brooke: I think I was doing it partially to put myself in a very challenging, foreign, strange situation. That was kind of a challenge for myself. It was something new and adventurous and I knew it could potentially change my life for the better. Anything that I could do to make a better future for my family and son was what I going to do.
Q. Gina, RealityWanted: I always wonder how it is for the contestants to be cut off from the outside world and their friends and family. Being a mom to a young son, how did you handle it and did it ever affect your ability to focus on the competition?
A. Brooke: It was really hard. The lack of communication with my family was frustrating. It was hard not to be able to call my son and say goodnight. He wasn't old enough to understand why I wasn't coming home. I was really scared that he was going to think I was never coming home. Usually, if I'm away and he misses me or wants to talk to me, all he has to do is call. He wasn't able to do that, and that was a concern. I don't know that it broke my focus. I think it might've helped because I felt like if I was going to be away, that it needed to be worth it.
Q. Gina, RealityWanted: It was pretty amazing to watch you overcome some of your fears this season, like the helicopter ride in Alaska. Tell us more about that moment.
A. Brooke: It's been really nice to hear other people say, "You've inspired me to do something that I didn't think I could do." In my rational mind, I knew that I wasn't going to die. It was a decision to put one foot in front of the other. I was like, yelling at myself. I didn't go into this competition with any intention of quitting, you know? I wasn't going to start there. I had already gotten so far. I wasn't going to let that become the reason why I didn't move forward.
Q. Gina, RealityWanted: You won more challenges than any other chef this season, but which dish stands out as your favorite?
A. Brooke: I would say my favorite dish that I made was the lamb stuffed squid. It was like, the big bold flavors that I love to cook with. I was able to pull it off in a very intense way and I was really proud of it.
Q. Gina, RealityWanted: Last Chance Kitchen is always a little bit of a touchy subject with the cheftestants. On the one hand, if you're elimination and get to come back because of it, it's great. On the other, if you made it to the finale like you did, it's tough to have someone who was already eliminated come back. What were your feelings about it?
A. Brooke: Yeah, I felt like Last Chance Kitchen was probably going to happen again. I mean, I kind of didn't think of Last Chance Kitchen as a second resort. I wasn't ever like, "It's okay if I go home because I always have Last Chance Kitchen." I never wanted to be in the situation.
Q. Gina, RealityWanted: What was your reaction to the final challenge and cooking in front of so many people?
A. Brooke: I feel like, as part of my personality, I am the most focused that I ever am in the kitchen. Once I got past the ooh and ahh of "Wow, we're doing that in front of all these people," I didn't care anymore. I wasn't performing, it didn't matter.
Q. Gina, RealityWanted: Do you think back to the dishes you served and run scenarios about what you could've done differently?
A. Brooke: No, I mean, there's no point in thinking about things I could've done differently. The fact is, I probably wouldn't have done things differently. I was really happy with all of the food that I put out that night. There were a few technical issues that got in my way but I can't really regret the things that I did. It was disappointing but I'm at least able to say that I'm proud of the last dishes I put out.
Q. Gina, RealityWanted: What's been the best part about being on Top Chef?
A. Brooke: Just being able to be part of the camaraderie of the culinary world more than I was. In LA, the chefs are so spread out. It's not like New York, where they go out late and hang out all the time. Now, I feel like I can be a part of this culture and club that's really exciting to be in. The fact that Andrew Zimmerman is tweeting me and knows who I am is amazing.
Q. Gina, RealityWanted: What are your plans now that the finale has aired and the show is officially over?
A. Brooke: My plans really haven't changed a whole lot. My husband and I don't plan on stopping with our two restaurants and we'd like another location by the end of the year. We're just looking for the perfect spot. I'd like to participate in more culinary events and be in that world a little bit more.
(Image courtesy of Bravo)
Follow Gina @ginascarpa