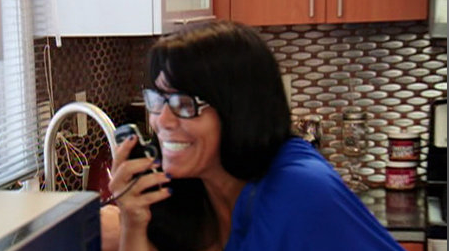 by Jessica Blackwell
Karen decided it was high time to go deal with Dave, her daughter's father so she booked a ticket to Phoenix to finally straighten it all out. Storm asked Karen out on a date, and she happily accepted. To go along with her rusty dating skills, she lost her voice. Storm seems like a nice guy, but I can't ever a man with an entire row of blinged out teeth and a diamond pinky ring. However, he can't be worse than any other the other guys she's dated, so let's see how it goes. 
Since her man is home, Drita had some business to take care of. She got a new pair of rims with the nickname Lee gave her, Lady Boss, on them. The she decided to set him up with a new car and other essentials since he's fresh out of jail and has nothing. Oh yea, and then she had to get her right boob fixed. LOL. It's cute to see Lee home and the couple acting like teenagers in love. I hope it lasts. 
Ramona was finally ready to let the world know that she was engaged, so she picked her ring up from the safety deposit box and decided to flaunt it. She knew Karen would be happy for her, so she decided to confide in her first. She was dead wrong, Karen dealt her a hard dose of reality that she desperately needed. She reminded her that this man that she is planning on marrying may possibly be going to mail for a very long time and that her life will be not be the fairy tale she is imagining.  Listening to her engagement story was heartbreaking, he picked out a ring before he got arrested and she had to go pick it up from the jeweler alone after he was already incarcerated. Their plan was to get married while he was out on bail, accompanied by armed guards. Karen was right to bring her down to reality, and it's sad that Ramona thinks this situation is her happily ever after. 
Despite the blowup with Karen, Ramona invited her and the girls to her friends house to see her new collection of fur coats and leather purses (someone get PETA on the line!). They traded barbs back and forth and no one knew why they kept snipping at each other. It just so happened that Renee brought up the topic of relationships while a man is incarcerated and Ramona felt that the conversation was geared towards her. Poor Renee was just trying to be drama free and she stumbled on a land mine. After telling everyone about her engagement, Ramona found that Karen wasn't the only one who had objections to her plans. 
Big Ang decided to throw a Christmas party, but she wanted to invite all the girls, including those who want to kill each other. Love and Renee cancelled, Renee flat out told her it was because of Carla and Love was sick. Even though Carla's main enemies won't be there, it looks like some drama is still going to pop off. Stay tuned. 
Mob Wives airs Sundays at 8/7c on VH-1. 
(Image courtesy of VH-1)