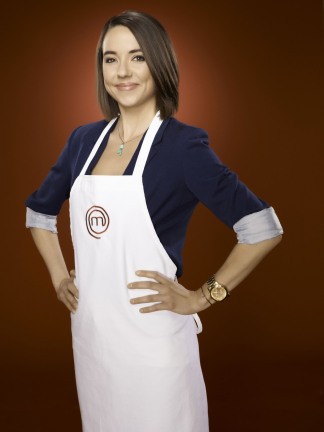 by Gina Scarpa
Life since MasterChef has been quite busy for Becky Reams. Both Gordon Ramsay and Graham Elliot were hoping to snatch her up to work for them, but she's got her own goals she's pursuing. Besides her site, thedeliciosuview.com, she's teamed up with WhiskedFoodie.com and hosts a cooking series on the site. We caught up with her in an exclusive interview to find out about life since MasterChef and find out more about her yummy recipes!
Q. Gina, RealityWanted: Have you stayed in touch with Gordon Ramsay since MasterChef? He thought very highly of you.
A. Becky: We definitely stayed in touch, same with Graham. I just worked with him a few weeks ago. It's been awesome to stay in touch with them. Graham is eventually trying to open a restaurant in LA but I'm not ready to leave Chicago. With Gordon, I was talking about possibly working for him but it's not going to work out. I don't think I'll work with him at Fat Cow. With everything I'm doing, I don't think it's going to happen.
Q. Gina, RealityWanted: You're now involved with WhiskedFoodie.com. Tell us about that.
A. Becky: Whisked Foodie is something I'm so excited about. It's a web cooking series. My approach is that I wanna be able to create videos where I introduce people to dishes in general. I want to really break down recipes that could be more extreme or advanced and show the home cook that it's within their grasp.
Q. Gina, RealityWanted: So you're showing people that it's not as hard as they may have thought to make certain dishes...
A. Becky: Yeah, and just to think about food in a different way. To think about cooking not as a task but really thinking about food intuitively. That's really kind of cool with the writing I'm doing too; I get the opportunity to share my love for cooking.
Q. Gina, RealityWanted: Now, do you have a lot of control over the content you post?
A. Becky: I have almost complete creative control. Literally everything I'm working on is completely my idea. The editors are great about giving me free range to write about what I want to write about. Everything is 100% original content. It's a really, really awesome job. I'm writing new recipes all the time. It's really exciting.
Q. Gina, RealityWanted: Was this something you were already involved with or did this opportunity come to you because of MasterChef?
A. Becky: No, it came from MasterChef and it wasn't necessarily that they were knocking on my door. What ended up happening was that I saw they had some cooking videos on their site and I set up a meeting about their food content. I thought if I could get involved in some way, that would be awesome. I pitched them my ideas for a cooking show with better food that maybe you wouldn't expect, but is more exciting. Ultimately, I wanna have my own cooking show. Those things are very real possibilities. Even though it's web based, it's a really really good series and the production is high, the quality is beautiful, and the content is amazing.
Q. Gina, RealityWanted: What's an example of the kind of dish you make on Whisked Foodie?
A. Becky: Okay, so I was introducing people to miso. They know what it is in terms of miso soup but I wanted to show them two ways that you can use two different kinds of miso. I made a white miso caramel that I glazed onto a pork belly. The caramel gets crispy and then the miso is salty. Very easy to do, and I walk you through it. The second one was a red miso and I mixed that into a hoisin sauce and showed people how to pan fry a duck breast and use that as a glaze. The recipes aren't always complex, but the recipes are complex - bold, in your face types of flavors.
Q. Gina, RealityWanted: That sounds delicious! And do you stay in touch with your fans?
A. Becky: Oh yeah absolutely! I talk to people all the time on Twitter. You can find me on Facebook too! And then there's my website, thedeliciousview.com.

(Image courtesy of FOX)

Follow Gina @ginascarpa