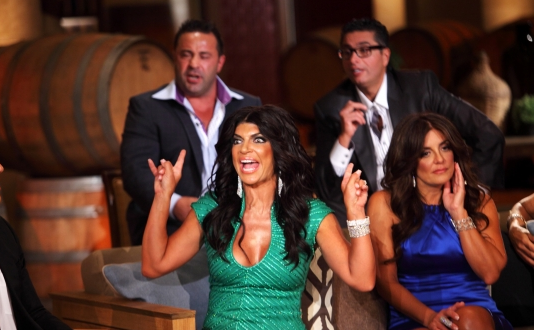 by Jessica Blackwell
It's the final round for the cast of RHONJ. When we left off, we were graced with the presence of a grunting Joe Giudice and the lovely housewives. 
Andy asked Caroline if she regretted making disparaging comments about the state of the Giudice's marriage. She tried to apologize for the comments she made, but Joe wouldn't allow her to, eloquently dubbing her a "know-it-all". 
Joe nonchalantly stated that he wasn't worried about his current court case, which in case you live under a rock, is the one where he is accused of trying to go to the DMV to obtain a fake license under his brother's name while his own was suspended. He brushed of any inch of concern, and jokingly said that you can "indict a ham sandwich" and that they can "shove their plea deal." Clearly he isn't concerned that the judge presiding over his case may actually watch reality TV, and after hearing his comments, may want to make an example of him for laughing off the legal system. 
Teresa was still angry that Melissa and Joe spoke about Joe's impending criminal trial on the show, so Andy gently reminded Teresa that he (and the rest of the world) found out about the charges against Joe from her In Touch article where she claimed to be worried that Joe may have to "go away". She maintained that she asked her family not to speak about her husband's court case, but what is the difference between them speaking about it on the show, and it being printed in a magazine? She couldn't answer that question. 
The rest of the men (dubbed as moms by Joe Giudice) joined Joe and and the ladies on stage. From the moment Joe Gorga stepped on the stage, Teresa's mood changed. She went from being in attack mode, to staring down at her feet with a pissed off look on her face. 
Joe squared discussed the contention between the two of them and the only reason Joe Giudice could name as to why he hates his brother in law, was that he never returned tools that were borrowed. Wow. So, he hates the fact that he has to look at his face over tools? That cost $3,000? Newsflash Joe, during season one, your wife would spend that in one day on frilly tutus for your daughters. 
Joe Giudice angrily ordered Joe Gorga to pay his bills. Apparently he lives in the same fantasy world as his wife, because I thought people declared bankruptcy because they can't pay their bills? Joe seemed really antsy, trying to leave before the taping was over on more than one occasion. Joe couldn't sit there all night, ok guys? He's got things ta do! Like whispering sweet nothings into his mistress's ear. Oops I'm sorry, I meant his friend from er, way back. 
The witch-hunt to find the stripper of the bunch went on all season long. First it was Melissa, then during the reunion, it was Jacqueline. Who turned about to be the stripper? Little Joey Gorga! Why am I not surprised? As much as he likes to parade around naked, we all should have known! Hearing him describe his days as a college stripper was the only time that he smiled on stage. 
Joe asked Teresa to own the mistakes she's made, particularly when she called his wife a stripper. When she continued to deny it, he informed her that their own father even told him she said it! Joe pleaded with Teresa to stop her feud with Melissa so that they could be a family and told Andy and the rest of the world that he picked the "perfect wife and mother", which I'm sure burned Teresa up!  Teresa wasn't having all of that and she struck a low blow and threw the family card in the pot, telling him that their parents are all they have. That seemed to do it for him and he cried angry tears as he threatened her not to speak about their parents. Joe revealed that his parents are no longer in his life due to all the drama with Teresa. 
Teresa was still blaming Melissa for tearing her family apart and still claiming that she never called her sister in law a stripper, despite numerous reports to the contrary. They brought Kim D to the stage to clear the air about Angelo, who claimed Melissa danced for him at his club. Joe  Gorga apologized to her for the things he said to her on the night of the fashion show,  to try and level with her to get the truth about Teresa's involvement that night. Kim admitted Teresa didn't have a hand in setting Melissa up, but she did know that something was going to happen before it happened. So it was a setup, at the hands of Kim D, and Teresa knew about it and didn't try to stop it. I'm sorry but that is just as bad. She knew they were going to be filming that night, and that Melissa was going to be humiliated, and yet she did nothing. 
After she was caught out at the very least not defending her sister in law or giving her an obligatory heads up, Teresa was finally put in a position where she couldn't deny her wrongdoing. Not to say she didn't try her damnedest, but she simply couldn't. She grew hysterical and screamed her innocence. Despite the fact that both brother and sister clearly miss each other, I don't know what is going to bring this family back together again. Maybe if Melissa left Joe, they Teresa can say "I told you so" and they can all live happily ever after. 
Tonight it was revealed that not only is Caroline not speaking to Dina, but Chris isn't either. It wasn't made clear why, but it seems that Chris was extremely disappointed that Dina attended the Fabulini party and said things that weren't in favor of Caroline on TV. 
It seems this show has had a negative impact on two families. Chris, like a wise old owl, commented that he and Jacqueline learned what was important in life when they went through their son's diagnosis with autism, and one thing he knew now was that the drama on the show wasn't important. I enjoyed all the drama of this reunion series just as much as the next person, but it all seemed so sad. On the other branches of the housewives franchise, it's guilt free entertainment because they all fight and then go home to their families. But on Jersey, the cast is their family. 
I wonder what's in store for next season. Clearly they haven't started taping yet, and new cast members will be chosen. I guess we'll find out soon enough. Until next season! 
Check out our exclusive interview with Melissa Gorga!

(Image courtesy of Bravo)