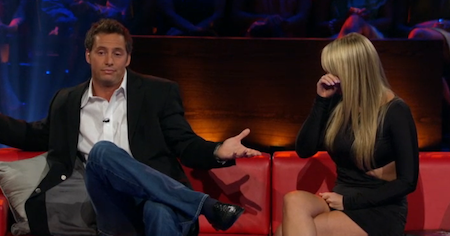 by Gina Scarpa
Where to even begin with last night's season finale of Bachelor Pad? Chris Harrison has touted many finale in the past as being the most dramatic or shocking but seriously, this one might take the cake. He starts off by checking in on Kalon and Lindzi, who are still going strong in their long distance relationship... that is, until Erica puts it on blast that she's seen Kalon out and about with many different women at social events. She warns Lindzi to be careful, who doesn't seem too phased by it. After all, consider the source. Erica and Kalon have been at each other's throats since the first night in the mansion.
Michael is the first to head to the hot seat, where we find out that he had no interest in continuing a relationship with Rachel outside of the house. Jaclyn, upset on her friend's behalf, calls him out for leading her on during their time on the show. He says that his feelings were genuine at the time but he just didn't see it going anywhere. I love people who get upset after their stint on Bachelor/Bachelorette/Bachelor Pad. Did you really think you were going to find the love of your life on a reality television show BASICALLY about hooking up with multiple people?
I'll answer that question after check in on Blakeley, who is still with Tony. But first, Bitter Betty... I mean, Jaclyn... joins Chris to voice her disgust for Rachel voting her out of the game at the very end. She was loyal to her alliance throughout the show and got stabbed in the back. Yeah, I'd be pissed too. She also gets into a fight with Jamie, calling her socially awkward and declaring she doesn't want to be her friend, but that doesn't make her a bad person. I'm gonna have to side with Jaclyn on this one.
Onto happier things, though it was unexpected, Blakeley and Tony have fallen in love and they're moving in together. Tony caps off the night by getting down on one knee and proposing with a giant Neil Lane engagement ring (thanks Bachelor Pad!) and she does not hesitate to say yes. After all, he's got cable!
The final two couples arrive and Rachel kicks it off by asking Michael why he treated her the way he did. "You were SOOOO into me," she repeats. Rach, I'm trying to be on your side but between the way you backstabbed Jaclyn and your reaction to Michael tonight, you're makin' it rough. It turns out after breaking up with her, Michael cuddled and kissed Rachel in her hotel room and then, she ended up finding out he WAS in a long distance relationship with some other girl the entire time. Michaellllll... whyyy... you're supposed to be the one we all love and root for. Meanwhile, poor Nick is just sitting there waiting for his turn to speak when Rachel puts her hands on him and says, "He's here, too!" Uh yeah, he is. And I start to get the feeling that Rachel's meltdown comes at the hands of her partner, instead of her makeout buddy...
Chris (of Chris and Sarah) tells a sob story about how his family is disappointed in his behavior on the show and he's heard it enough from them. Well buddy, you're going to have to hear it a little bit more from Jamie and Blakeley. Blakeley takes the easy shot, saying that the people he screwed over are the ones who have vote in the end, so his gameplay wasn't smart. Jamie, on the other hand, says he would've been a terrible father to Emily's little Ricki. You know, I'm sorry but I don't feel bad for Jamie. Chris never really treated her well, she kept coming back for more punishment, and then she wants to cry about it. Raise your standards. That is all.
When it's time for the votes to be revealed, Chris and Sarah earn three votes from Kalon, Dave, and Erica Rose. Eight votes go to Rachel and Nick, the winning one coming from Jaclyn (glad she put her bitterness aside) and now, it's time for the big decision. Nick and Rachel have to decide whether to keep the money or share it. Rachel went into the evening feeling she could trust her partner and found out that in Bachelor Pad, you shouldn't trust anyone.
Rachel reveals that she chose to share the money but Nick kept it all for himself - and the audience... goes... WILD! Nick justifies his actions by saying he was in this game from the beginning, alone, and nobody cared what he said, what he did, or how he voted. Rachel was thrown with him in the end, and didn't even want to be there, never mind be a good partner. Don't get me wrong, I feel bad for Rachel, but everybody treated Nick like crap and the final reel that ran during the credits proved that. If he doesn't care about polarizing people (some will hate him for it, some will love him) then more power to him. Bottom line? Game well played, Nick.

(Image courtesy of ABC)

Follow Gina @ginascarpa