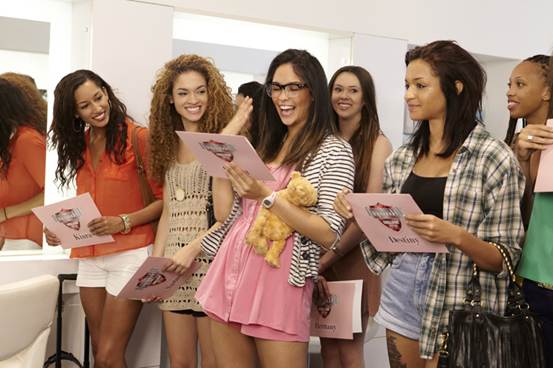 by Kylene Hamulak
It's the first night after an America's Next Top Model: College Edition elimination, having said goodbye to the much-loved Jessie - that's the bad news. The good news is that it's also the first night the "Best Photo" has won one of the girls a stay in the posh Tyra Suite, and that honor goes to Leila. She has also chosen to share the experience with Laura, as the Best Photo gets to pick the model who will be her roommate in the Suite. (Part of me can't wait for the day one of the girls is gutsy enough to keep the suite all to herself!)
Leila seems really sweet, and she explains that she picked Laura because, "I love Laura, Laura's awesome." Interestingly, Laura tells us that she doesn't know what Leila's motive is, but that she's not planning on helping anyone. Meanwhile, Darian doesn't really think Leila is model-material, so it's nice to see there's absolutely no jealously or hard feelings among this group.
Tyra Mail soon arrives with a question: "Who's gonna make the cut?" And then it's followed by much jumping and squealing when the models realize they'll all be getting makeovers. Excitement!!! Well, for almost everyone. Not for Victoria, who doesn't really think a pixie cut will work for her hair type. And not Kristin, and not Maria. Especially not Maria. She's sulking around the house telling everyone that she does not want them to cut her hair, and the other girls are not really caring all that much.
All the girls visit Cristophe Salon for their transformations, and many are relieved to learn that they actually have a choice as to whether or not to accept the makeover - as long as they decide BEFORE they see what Tyra's sealed-envelope style suggestion is. One by one the girls accept their makeovers, until Maria is called and answers with an emphatic "HELL NO." Victoria also declines, and the general consensus is that both girls are idiots for refusing the makeovers.
When the envelopes get opened, and Destiny is getting a partially shaved head, Darian will have a bob, and Laura is going ice blonde. But before we get to see anyone (except for a sneak peek of Darian's layered bob), Tyra wants to talk to Victoria and Maria about why a model should never say no to changing something temporary. It's actually kind of funny, considering neither girl was given a suggestion that would've cut their locks, and they both should've accepted the makeover.
So back to the girls who DID take Tyra's advice: Kristin has had hers cut with bangs added, and she looks super cute. I mean, she's gorgeous, so her hair really doesn't matter, but the change is great. Nastasia's hair is described by Tyra as "a lion's mane", and I'm not really sure of the exact change (cut and maybe highlighted?), but she's happy with it. Kiara...don't really know. Something about her hair seems different (extensions?) but mostly Tyra is focused on creating some drama with Kiara's eyebrows. Kiara tells us she's FOR SURE a threat now.
Destiny seemed a little nervous when she initially read the details for her makeover - she's doesn't think the look is feminine enough. She doesn't feel pretty, and doesn't want to look like a lesbian, and then she starts crying. And as Tyra crouches down next to her to delve deeper into her psyche, we learn that Destiny does, indeed, like girls. As well as boys. And she doesn't want it to define her. First the dumpster diving, now the bisexuality...can't this girl just be a beautiful model, Tyra? Why do you always have to make her cry? Post-makeover, however, I'll admit Tyra was right (again) - Destiny's shorn cut looks terrific on her.
Let's cut back to Maria, who is now trying to explain to Kelly that she didn't accept the makeover because she didn't want to cut her hair. Kelly warns her that no agency is going to want a model starting out with no flexibility, so Maria informs her that she already has representation. Well, la di da your majesty! Why are you wasting everyone's time if you've already done so well for yourself? Yeah, as you can imagine, Kelly is not impressed.
On to the other makeovers - Brittany went from dark and long to...well, she looks like Lavinia Swire on Downton Abbey. It's probably the most drastic change we've seen so far. Allyssa, Yvonne and Leila (blonde!) get thrown in without much to say, and then there's Laura. Laura, who will be "icy blonde" when this is all over. She loves it. I'm not entirely sure about it, but it makes her remind of an actress (whose name is totally escaping me now).
P'Trique arrives with Tyra Mail, which is really just a bad riddle that the girls figure out in like...less than three seconds: They're going to be naked. And I can't help but wonder how that's going to go over, especially for two girls who didn't even want to cut their hair.
That night at the house, the models are pretty vocal about who they think should go home. Several name Maria, while Kiara is ready to get rid of "loud and annoying for no reason" Darian. She tells Allyssa to give her a message: be quiet after midnight. Well, I'm sure you can guess how happy Darian was to oblige...meaning, she wasn't. And thus begins our weekly Catfight with Kiara segment.
In case you wondered? Kiara is a "real bitch." She told us so herself. Several times. And Kristin gleefully jumped on a bed. You know she's just itching to brawl again. Victoria's take on the scene is pretty delightful. "That's not an argument. I mean, 'I'm a real bitch'? What's that supposed to accomplish?" Kind of love it.
Let's get to the photo shoot, with Tony Duran in a garden full of sketching artists. The girls are told that not only will this be a nude photo shoot, but they'll also be paired with a male model...who also happens to be judge Rob Evans.

So as they're just sort of nonchalantly sitting around in various states of undress, Allyssa and Destiny are talking to Maria about the makeover incident, at which time Maria calls Kelly a c-u-next-Tuesday, if you get my drift (which is the drift I got despite the censors). Her language shocks some of the girls, who can't believe she's actually representing the Ivy League.
The shoot begins with the girls doing a great job being comfortable with Rob and their nakedness, and Johnny seems really excited about Brittany, Laura, Allysssa and Yvonne, to name a few. Darian struggles with the direction of the shoot, and Rob says he's disappointed that Kiara seems to be holding back.
Victoria is sporting some version of curly hair, hoping to grasp the spirit of the makeover that wasn't, but Maria continues to sulk in her bathrobe. When Johnny goes to get her prepared for the shoot, she breaks the news - she doesn't want to do it. It meaning....the shoot. And the show. And possibly modeling in general, and then she starts to cry. She also withdraws from the competition.
When the other girls are told of her departure, I don't think any of them pretended to be disappointed. One (I think it was Laura) even responds, "Good." Kristin finds the silver lining with one less girl she has to beat.
Note to Kristin: you're going to have to model better if you want to win, 'cause your garden shoot was disappointing. Rob says, "It's like she's almost too pretty.... 'I can take a picture without even trying.' I don't like that." Destiny has a little bit of difficulty, but Johnny is really impressed by Victoria's performance.
Next up on Top Model? It's the Victoria breaks down in the booth on the phone with her mom part of the show! I thought maybe we had turned the corner with her, but...apparently not. Still as wacky as ever.
And now it's time for judgement.
Laura: Rob describes her shot as a "Greek goddess being held by a Greek god", and they all liked it.
Judges Scores: 8 (Kelly) + 8 (Tyra) + 10 (Rob)
Darian: Kelly thinks Darian's photo is harsh and rugged, while both Rob and Tyra warn her to watch how much she pouts; Bryanboy reports that on social media, she's fallen off the radar.
Judges Scores: 6 (Kelly) + 7 (Tyra) + 4 (Rob)
Kiara: Besides Tyra, the judges weren't really all that impressed with her photo, and neither was social media.
Judges Scores: 4 (Kelly) + 9 (Tyra) + 7 (Rob)
Victoria: Victoria's first order of business is to apologize for saying no to the makeover, which Tyra really appreciates. Her shot is unexpectedly great - Tyra gives it "two snaps in a circle," and Bryanboy reports that her social media scores are on the rise.
Judges Scores: 9 (Kelly) + 10 (Tyra) + 9 (Rob)
Brittany: The judges also love Brittany's shot. Rob says it's like she's sending a message to an ex boyfriend, while Kelly calls it one of her favorites.
Judges Scores: 10 (Kelly) + 10 (Tyra) + 9 (Rob)
Destiny: Tyra seems surprised by Destiny's hair, and she tells her that if she survives the week, she'll get the hair Tyra REALLY intended for her to have. Unfortunately, her shots aren't that great - Tyra sees fear, and Rob thinks she's playing it too safe.
Judges Scores: 7 (Kelly) + 6 (Tyra) + 7 (Rob)
Kristin: Rob tells Kristin he found her difficult to work with, and while Tyra likes her photo, she didn't think her film was good.
Judges Scores: 7 (Kelly) + 8 (Tyra) + 6 (Rob)
Leila: Rob loves her shot, and so does Tyra, though Kelly thinks it makes her look a little young and would've liked it to look more "womanly." According to Bryanboy, fans love her, calling her "the most high fashion girl in the bunch."
Judges Scores: 7 (Kelly) + 9 (Tyra) + 10 (Rob)
Yvonne: Yvonne tells the judges she isn't comfortable using her butt as a focal point, but Tyra warns her that a model has to be known for something that stands out. Bryanboy also tells her that the fans are disappointed this week and don't think she's accentuating her curves enough.
Judges Scores: 4 (Kelly) + 6 (Tyra) + 6 (Rob)
Nastasia: The judges love her hair and encourage her to use that as her signature, while Tyra reminds her to use the extension of her body to appear tall.
Judges Scores: 7 (Kelly) + 6 (Tyra) + 9 (Rob)
Allyssa: Judges all love her, with Tyra describing her as "Megan Fox and J. Lo's baby." Bryanboy reports that one fan called her "perfect" and said she already looks like a professional model.
Judges Scores: 8 (Kelly) + 10 (Tyra) + 9 (Rob)
So, after social media scores are added in, how do the models stack up? The girl with the highest score for Best Photo is Victoria. That means she's got a key to the Tyra Suite. I wonder if she'll call her mom to join her.
The runner up for Best Photo is Brittany, with the other girls filing in behind her. The drama heats up when Yvonne, Kiara, and Darian are the only models left, and I'm hoping it comes down to Kiara and Darian just so we can see who really IS the real bitch. No luck though - Kiara is told she's still in the running, leaving only Yvonne and Darian at risk. Since their judges' scores are identical, the final vote comes from social media. Amazingly, Yvonne narrowly beat out Darian's score by .03!
Darian is eliminated from the competition, and don't forget - Maria is gone too. That leaves just ten girls left in the running to become America's Next Top Model.
America's Next Top Model airs Fridays at 8/7c on The CW.
(Image courtesy of The CW)