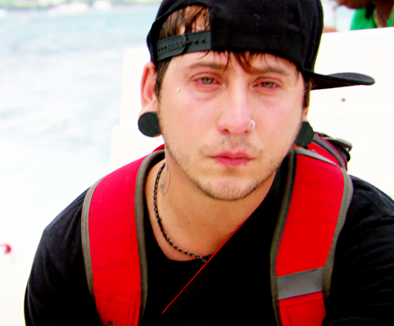 by Gina Scarpa
With their time in St. Thomas winding down, Marie and LaToya decide to go hiking, which doesn't sound like a horrible idea - unless you consider they have idea where they're going and they leave to hike as the sun is setting. After they scream all over the island at every little noise, they finally make it back home safely.
After a night out at the carnival, Laura and Trey head to bed together as usual but he's woken up by a phone call from Chelsea. I'm still not sure what's going on between them and it doesn't seem like it's going to be discussed out in the open. (Maybe at the reunion?) When he asks about her love life at home, she admits she's hanging out with other guys which really pisses him off, but then he openly admits that he's still sleeping with Laura. Chelsea tries to end the relationship but Trey convinces her to come to St. Thomas at his expense. He immediately lets Laura know it has to be over between them and then berates her when she gets upset about it. And just when I thought he was starting to treat people better...
Before coming onto The Real World, the roomies signed contracts in which they agreed to random drug testing - well, today's the day and we have a problem. Apparently, Brandon has tested positive for cocaine, which is a violation of the contract. He denies it, and producers agree to send the results to a lab for further testing. Brandon's dad tells him that if he did something wrong, he needs to man up and admit it and also stop letting anger run his life. Soon after, he heads to the diary room, admits that he did it, and is told that he'll be leaving the show the next morning.
With Chelsea on her way to the island, and Brandon on his way off of it, the drama levels have risen considerably - and that's saying a lot, considering this is The Real World. Swift takes Laura ou to get her mind off of things, while Chelsea arrives to talk things out with Trey. Let me tell ya, it doesn't go very well. He has little ability to share his true feelings so everything comes out as angry and condescending, except she's had enough of it. She kicks him out of her hotel room later that night but the two agree to hang out the next day. They've decided that they do want to be together but have to put fixing their relationship on hold to say goodbye to Brandon.
Finally, Chelsea and Laura meet up at the house. It's awkward, but not nearly as juicy as the previews made it seem like it would be. Basically, the two don't have a problem with each other and since they've known about each other from the beginning, there's really nothing to say or confront each other over.
And unfortunately, it's time to say goodbye to Brandon. Swift has the toughest time with it, but each of the roomies is sad to see him go, writing him heartfelt letters and giving him big hugs before he takes off for Boston. It's really unfortunate that he couldn't make it the whole season but when the alcohol is free flowing, people aren't going to make the best decisions. It doesn't excuse his behavior, but it's still sad to see him go.

Don't miss the finale of The Real World: St. Thomas, Wednesday at 10/9c on MTV.
(Image courtesy of MTV)

Follow Gina @ginascarpa