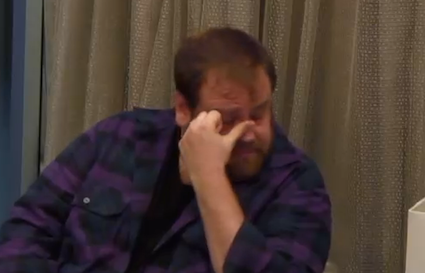 by Kylene Hamulak
After last week's twist traded Stephanie to bring Mike back to the house, there was more drama that sent Erica with Gene to Limbo with Jeffrey's vote. With only four players left in the house, it's interesting that it's the three members of Kevin's alliance and....Jeffrey.
And then it's time to celebrate. Celebrate what? Kevin's birthday! I'm so sad that Erica is missing this! Andrea wrote him a really nice letter about what a great guy he is, aaaaand...I mean, I'm not gonna lie, I'm kind of ready to marry him myself.
Are you ready to bring on the waterworks? Kevin's daughter sent him a birthday tweet to tell him he's doing great. He's obviously touched by it but is probably the only one not teary-eyed as he reads it. Ah, but don't get too attached, ladies - seems Kevin is a self-proclaimed "commitment-phobe".
When it's time to see who's back from Limbo, the house is hoping Erica makes it back, even though, as Jeffrey points out, Erica will have a LOT to say. "I'm ready to weather the storm," Jeffrey says. "I'm just nervous about how big that storm is gonna be."
Well, we're all gonna find out, because Gene goes back into the depths and Erica is back in the house. And yes, she's still clearly pissed about Jeffrey voting against her.
The Wall announces that only the lowest vote getter will be revealed, which turns out to be Mike. I don't even have a chance to feel sorry for him before Boston Mike takes a shot at the Yankees, and I remember I still need someone to root against. That'll be you, Mike.
The house still needs some drama, so that will come when Erica confronts Jeffrey about why he voted for her. He explains it was his strategy to ensure that Gene wouldn't make it make in, but then also accuses Erica of playing the game based on her feelings for Kevin. That explodes pretty quickly, to exactly NO ONE'S surprise.
When they're summoned to the Wall, the players learn that they will have the opportunity to decide who among them will compete in the Limbo challenge against Mike. Winning the challenge ensures safety. Erica begins by choosing Andrea, Kevin chooses Erica, and Andrea chooses Jeffrey. Jeffrey thinks the rest of the house already voted against him, so he sacrifices himself. Again.
When it comes time for their second vote - this one to send one of the players on a vacation - Erica starts by selecting Kevin. Kevin picks Andrea, Andrea picks Erica, and Jeffrey - as a token of friendship - also chooses Erica. She'll be planning her trip to Panama City Beach, Florida - maybe taking Kevin along?
The challenge is an interesting one. A Glass House "apartment complex" has been constructed with rooms dedicated to each of the eliminated contestants. Mike and Jeffrey are tasked with scaling down the side of the building, observing the scenes, and then answering questions about the details of each of the rooms. If they are unable to do it on first try, the players can climb back up the wall to scale down again.
The competition is interesting - Mike is physically superior to Jeffrey, but Jeffrey does a better job of taking notice of details. The race is close, coming down to Jeffrey's one question versus Mike's two, with Jeffrey ultimately winning.
And then crying. Because even though his head and body said "QUIT!", his heart wouldn't let him.
The other players enjoyed watching the game and are happy for Jeffrey, but they realize it will impact the game. When it comes time for them to vote in someone to join Mike in Limbo, the results come back in a tie between Erica and Kevin - leaving it up to Mike to decide who will join him. Mike, of course, honors his alliance and chooses Erica.
Because it's the final week of voting, the Wall reveals that the viewers were asked whether or not they should be allowed to stay in the house, and decided that, yes, they would like to see the players serve their Limbo time within those glass walls. Andrea is pissed off enough to cry about it, believing she's not as likable as the other players.
Doesn't matter though - someone's getting eliminated anyway, starting with either Mike or Erica. In fact, there will be two players eliminated before the next show - the first on Tuesday (August 14) and the second on Wednesday (August 15), bringing the final three back for the finale.
Who's come this far only to watch the finale from home? We'll find out soon enough!
The Glass House airs Mondays at 10/9c on ABC.
(Image courtesy of ABC)