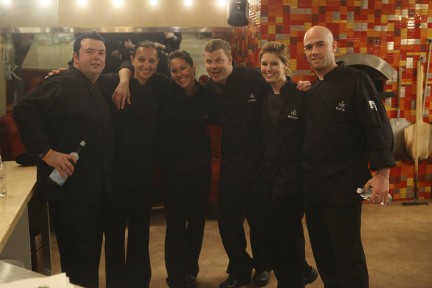 by Todd Betzold
The London Olympics 2012 are done and we can resume our regular schedule of shows I love the most: Reality TV! Hell's Kitchen took a two-week hiatus while the Olympics were on, but we are back in the kitchen tonight. The last episode ended with the final six chefs receiving black jackets and one team was formed. Let the drama ensue!
The chefs all head back to their dorm and celebrating their black jackets. Everyone is happy, but how long will that last? Probably the next morning, as the chefs head out for their next challenge. Chef Ramsay has invited Chef Ludo Lefebvre and Chef Quinn Hatfield into Hell's Kitchen to help out with the challenge today. All three chefs have created one of their signature dishes for today's challenge.
Chef Ludo did a Caprese Salad, but used red bell peppers instead of tomatoes and he did a feta mousse. None of the chefs were able to guess the differences he used on his dish. Up next is Chef Quinn, who did a Seafood Pasta but the pasta is actually made from salsify. None of the chefs, again, were able to guess that secret ingredient. Those were just a warm-up, as the real challenge will to taste the last dish and make it. They will be working in pairs: Clemenza and Dana, Justin and Barbie, Christina and Robyn. They have 30 minutes to re-create Chef Ramsay's signature dish.
All three teams have decided that the dish is made with veal. Barbie and Justin and Christina and Robyn have decided the wrapping is Serrano Ham, but Dana and Clemenza decide to go with Prosciutto. All the teams agree that it is a White Bean Puree. For the puree seasoning, Barbie and Justin and Christina and Robyn use Smoked Bacon, but again Dana and Clemenza go a different route and use horseradish. The last element of the dish they must figure out is the wine. Yet again, Barbie and Justin and Christina and Robyn chose Port for the wine sauce and Dana and Clemenza chose Madeira. With two minutes left, the teams hustle to try to plate their dishes to look just like Chef Ramsay's signature dish.
Up first are Dana and Clemenza. Chef Ramsay asks questions and just says ahem to everything. Looks like we won't know until the end who wins. Justin and Barbie are next and Chef Ramsay said good job. For Christina and Robyn, Chef Ramsay said it tastes delicious. The protein is veal. The wrapping is prosciutto. The puree is white bean with smoked bacon seasoning. The sauce is Madeira, so the winners are Dana and Clemenza!
For winning, they are headed to Silverwood Lake for a picnic and they will each have their own jet ski to ride! Seeing Clemenza on that jet ski will be fun to watch. The losing chefs will have to clean the dining room, since Chef Ramsay gave the whole dining room staff the day off. James is telling the chefs how to clean the dining room, which they are over it. Meanwhile, Dana and Clemenza enjoy some time on the lake and then have their picnic, which Clemenza is enjoying seeing Dana in a bikini.
It is time for their first dinner service as one team...the Black Team. Chef Ramsay calls them together to talk to tell them that they will be competing against another team tonight. That team consists of runner-ups from previous seasons of Hell's Kitchen: Russell from Season 8, Jay from Season 7, Kevin from Season 6, Paula from Season 5, Bonnie from Season 3 and Virginia from Season 2. Russell starts running his mouth and this should be exciting to watch. These chefs are looking to win and not finish as a runner-up yet again.
Hell's Kitchen is opened and it is time to see who shines! Appetizer orders start coming in and I think the runner-ups will struggle a little more because they aren't used to working together. The runner-ups send up their first apps and Chef Ramsay is happy with them. For the Black Team, Robyn is starting on cold apps. Chef Ramsay wants more dressing on the salad and sends them back. She puts more dressing on it and they are good to go.
Meanwhile, the runner-ups have half of their apps out to the dining room. For the Black Team, Clemenza tries to get ahead of schedule and Clemenza starts working on lobster, which hasn't been ordered yet. Robyn and Clemenza gets chewed out and it isn't looking good for the Black Team. The runner-ups have finished their apps and are moving on to their entrees. Jay sends up Sea Bass that is caked in pepper, so Chef Ramsay sends them back. Kevin helps Jay out with the fish and he sends up perfect fish.
The Black Team (Barbie) sends up the first entrée and Chef Ramsay said it is beautifully done. Dana is falling behind on the fish station, but she is not asking for help. She does not trust Clemenza or Dana to help her out. Clemenza helps out with scallops and Justin questions why he would help out on scallops because he can't cook them. He sends up the scallops and they get returned. Dana then tries Robyn on the scallops.
The runner-ups are bonding together very well, as they are pumping out consistent entrees. On the Black Team, entrees are going out, but Chef Ramsay is trying to finish the last table of apps. Chef Ramsay sees scallops sitting out that are seasoned, but not cooking. Robyn said she had them seasoned and waiting for Dana to cook because she likes to finish them herself. Chef Ramsay takes Dana to the back of the kitchen! Shit is about to get real!
He tells her if anyone touches something on her station she is responsible. If they are sinking, she needs to find a voice and kick them off her station. Dana comes back into the kitchen and gets the fish station back on track and gets her apps out. They both complete a successful dinner service, but the winning team tonight (a real big shocker here) is the runner-ups who returned to Hell's Kitchen.
Now the chefs must go back and nominate two people to go home this week. Dana blames Clemenza and Robyn for the errors on her station. Dana nominates Clemenza. Barbie nominates Robyn, which sets her off and the fighting begins. Robyn says no one wants her there and I love Justin nodding his head! On a sidebar, why do they all seem to hate Barbie? She started out bad, but she has been good recently and they all hate on her! The nominees tonight are: Robyn (for accomplishing nothing) and Clemenza (responsible for Dana's scallops). They step forward and explain why they deserve to be here. Chef Ramsay sends Clemenza back in line and Robyn is going home!Chef Ramsay says that he can't see Clemenza in Vegas, but Clemenza says that lights a spark in him!
Hell's Kitchen airs on Mondays and Tuesdays at 8/7c on FOX.
(Image courtesy of FOX)
Follow Todd on Twitter @tbetzold