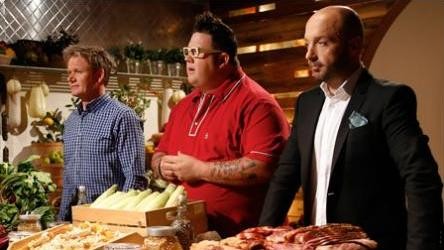 by Todd Betzold
Last night on MasterChef, we saw Josh earn his way back into the kitchen. It is another Mystery Box Challenge tonight and it looks like it gets lively. Will the fight to get back into the MasterChef Kitchen be worth it for Josh, or will be sent right back where he came from?
The homecooks head back into the MasterChef Kitchen and it is time for another Mystery Box Challenge. In the box tonight are prawns. They have 45 minutes to create a dish tonight, so time is extra fast. Monti is worried because she hates anything that is alive and staring at her with brown eyes. As Chef Ramsay comes to talk to her, he gets showered as Monti tries to take the prawns out of the tank. The judges seem to think all the seven homecooks are working to their strengths on this challenge.
The judges take one final look to find the three standout dishes. The first dish they taste tonight is from Becky, who has made a record five times in the Top 3 of these challenges. She made Grilled Prawns with Salsa Verde and Saffron Rice. Chef Ramsay said it is very smart and intelligent techniques, well done. Graham said all these flavors coming together and everything on it is top notch. Joe said this dish respects the foundations of its Spanish traditions, but puts a modern twist on it. The second dish is from Christine (yay), who made Spot Prawns with Pineapple Broth. Graham said it is wildly flavorful without any of that blocking your palette and is really a homerun. Chef Ramsay said it is delicious and he loves it, welcome back. The last dish they will taste is from David Martinez, who made Spot Prawn Ceviche. Joe said it is very complex and it represents a great sense of balance and as good as they have seen from him. Chef Ramsay said its refreshing and you can't stop eating it, great job.
The judges discuss the three dishes and the winning dish tonight is from David. He heads back to the pantry with the judges to determine today's Elimination Test. He is given three ingredients and he gets to choose which one him and the other homecooks will cook with tonight. The ingredients are bacon, corn and beets. The dish they will all be making is a dessert, so they must incorporate this ingredient into the dessert. He chooses the corn and his advantage is he gets to see three examples of corn being used in a dessert. He decides to go with rice pudding with corn worked into it. He gets to ask questions and then he gets five minutes in the pantry alone. He goes in there and does his shopping and they head back out and he realizes he forgot the rice, the main freakin' ingredient! He is screwed.
The other homecooks head into the pantry and get their ingredients. David goes around asking if anyone has any extra rice. The only one to grab some was Becky, who grabbed it as a backup plan, but will she let him use it? And she does, so his life is saved. I would never have given it to him. It is a competition and you just had a chance to screw over an opponent. Silly, silly girl!
The homecooks are all struggling with this one. The judges are worried if Felix can get her rolls cooked and cooled in time. Joe said he tasted things at David's station and it tasted like crap. The time runs out and David brings up his dish, which is Corn and Rice Pudding with Salted Caramel Sauce. Joe said its really inedibly disgusting. Graham said he would have asked Becky for some it sugar while he was it. Chef Ramsay said he is struggling to taste the corn and it has some serious spices in it.
Next up is Becky, who made " Classy & Trashy," which is Popcorn and Panna Cotta. Joe said very creative plating and the cherries have a nice acidity and this is the thing people enjoy, good job. Graham said it is delicious and it works, good job. Chef Ramsay said she just gets stronger and doesn't disappoint. Christine is next and she made Corn & Coconut Pudding. Joe said it is good and it seems like a simple dish, but a lot going on it. Monti is next and she made a Corn Souffle. Chef Ramsay said it is delicious and amazing, well done. Felix is next and she made Corn Profiteroles. Graham said it is so dense and not airy and he doesn't get it and way beneath what he expects from her. Chef Ramsay said there is no texture there and he thinks this is her worst dish she has cooked in this competition. Joe said it looks bad, its raw and not really sweet.
Frank is next and he made Corn Budino with Chocolate Ganache. Chef Ramsay said it is delicious and nice texture, good job. Graham said it's a really solid dish and you pulled it through. Josh is last and he made Corn Crème Brulee with Corn Caramel. Joe said it is visually unappetizing. It is way too sweet and not executed properly. Graham said the flavors all make sense, but it does not look appetizing and he expects more from him at this point.
The judges go back to discuss them all. The winning dishes this challenge were from Frank and Becky. Anyone sick of Becky yet? They will be team captains next week. The three worst dishes tonight were from Josh, Felix and David. Josh steps forward and he is safe for another week. That leaves us with David and Felix. Chef Ramsay said they both produced terrible desserts and Felix steps forward and she is done in the MasterChef Kitchen. David is safe again...how he survives every week is beyond me.
MasterChef airs on Mondays and Tuesdays at 9/8c on FOX.
(Image courtesy of FOX)
Follow Todd @tbetzold