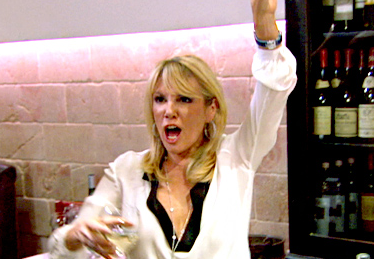 By Jessica Blackwell
Luanne was delighted to know all the juicy details about the drama that went on during the London trip that she was snubbed from, she just expected it to be with Heather and not LuAnne. Aviva told Sonja she had a handsome eligible bachelor to hook her up with, but there were two catches. 1st, the man was an admitted sex addict. Second, he was her father. EWW!!
For some reason, Sonja still agreed to meet with him so Aviva invited her, Ramona and Mario down to she and Reed's stunning Florida home. According the dictionary, catty is defined as follows: Deliberately hurtful in one's remarks or acions; spiteful. It seems Aviva decided to get catty and exclude some of the housewives from the Miami trip, although she gave Heather so much crap for doing the same thing with the London trip.
When attempting to work on her brand, Sonja enlisted Heather, who obviously successfully branded her Yummie line. Heather and Sonja proved to have very different business styles. Sonja was trying to rush the production of her toaster ovens and Heather really wanted to take her time to come up with a simple, clean design for the logo.
LuAnne hosted a wine party at Kellari Taverna where the guests had to guess what kind of wine they were drinking, kind of a fun spin on a wine tasting. They featured a wine trick where you sip a wine, then smell different aromas and then taste it again to separate your sense of taste from your sense of smell. The result was that the wine tasted different, and usually better.
At the tasting, Ramona ran up to LuAnne and hugged her from behind like they were the closest of friends, yet last week she was berating Heather for her "fake" smile. I mean, hello? A few episodes ago you were calling this woman a horrible parent and now you're snuggling like a new couple simply because you need more people in your corner?
They say you always have to worry about the quiet ones, and I 'm starting to think that Aviva isn't as innocent as she seems. As soon as Ramona started to get buddy buddy with LuAnne, she felt the need to remind her of the conflict between them..
From the looks the rest of the season preview, all the ladies end up turning on each other anyway. Oh boy...
The Real Housewives of New York airs Mondays at 9/8c on Bravo.

(Image courtesy of Bravo)