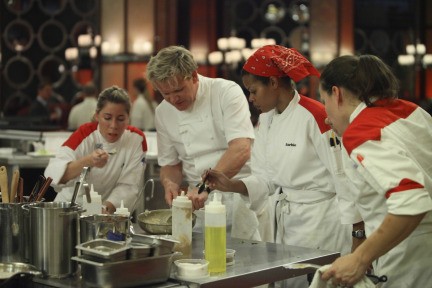 by Todd Betzold
The lucky seven chefs remain in Hell's Kitchen, but they aren't looking so lucky tonight when things go awry during dinner service. Chef Ramsay seems to be getting more and more angry with every dinner service, so these "lucky" seven might not feel so lucky.
Robyn comes back crying for the Blue Team and Christina is determined to keep the Red Team going strong with only three chefs left. It is time for the next challenge and it is testing their communication. They have 30 minutes to create three dishes that are on the menu. However, each team can only have one chef in the kitchen at one time. They have minutes to cook and then the next chef will come in and they have 15 seconds to communicate during their switch. The three dishes they will be preparing are Risotto, Lamb and Cod.
The first two chefs are Dana for the Red Team and Justin for the Blue Team. Dana gets the lamb down, since that is the longest meat to cook. Justin notices the risotto is raw and puts it next to the stove hoping the next chef will get it started. Clemenza and Christina are the next chefs. Clemenza is going slow and wasting time putting on his apron. The risotto is raw for the Red Team also, so Christina gets that started. Next chefs are Brian and Barbie. They keep things going and then Robyn and Dana are next. Robyn gets started on the cod. Christina and Justin are back in the kitchen now. Dana had the stove too high, so the risotto is burning on the bottom. It's the final round and Barbie and Clemenza head back into the kitchen. Justin rattles off all the info and Clemenza has no idea what he even said. Now, Barbie and Clemenza have to plate the dishes and it is mass chaos in the kitchen to get it down as time runs out.
The cooking is done and time for Chef Ramsay to see who was more precise with the dishes. For the Risotto, he said the Red Teams taste smoky because it is burnt. For the Blue Team, it was crunchy and raw. Zero points for both teams. Time for the Cod, and for the Blue Team he said there is no broth on the cod and for the Red Team it is raw. Zero points again. For the Lamb, he said the Blue Team's sauce is disgusting. For the Red Team he spits it out. For the first time ever in Hell's Kitchen history, he cannot pick a winner and both teams lose.
Since both teams lost, they will be sprucing up the front of Hell's Kitchen and then detail on the Hell's Kitchen RV and dinner service will take place tonight. The teams are outside working their butts off and then are tired from all the work, but dinner service must go on.
Before dinner service starts, Chef Ramsay brings in a secret dish he hopes will motivate the chefs...a black jacket! The chefs go down to one team after tonight, but only six black jackets are available! The teams get started on apps and Justin and Clemenza have the apps going out for the Blue Team quickly. For the Red Team, Christina sends up risotto and it is seasoned perfectly, but she sends up more than needed. She takes it back and is about to combine the old with the new risotto and Chef Ramsay rips her a new one!
Appetizers are going out well for both teams, then Clemenza gets an order for five risotto on one table. Everyone keeps offering help to him, but he says he is fine. Clemenza cooks it up in three pans and has three different colors, so Chef Ramsay reams him a new one. Barbie keeps offering help to Christina, but she keeps turning her down. Christina is getting distracted by Barbie and getting angry. She sends up burnt risotto and Chef Ramsay sends it back. She tries again and bounces back and apps are going out again for the Red Team. They are now moving on to entrees. For the Blue Team, Clemenza tries again on the risotto and nails it and they move on to entrees.
It is now time for Brian to work the meat station for the Blue Team. He sends up raw and burnt NY Strip and it gets sent back. Robyn must bring back her garnish and she puts it in the oven to hold it. Chef Ramsay sees this and calls her out on it. She said her team told her to do it, which they all deny. This sets off a firestorm, as they all argue about and Clemenza tries to bring them all back together and start cooking instead of arguing.
They regroup and get new entrees sent up. Brian sends up fresh NY Strip and Justin sends up reheated bass and they get sent back. Justin gets yelled at and it seems the all stars, Justin and Christina, are having some dumb moments tonight. Meanwhile, the Red Team is sending out entrees with ease and is on their last ticket. The Red Team gets their final ticket sent out and they are celebrating in their kitchen.
The Blue Team is still struggling on their entrees and is still working on their first ticket. As patrons start to leave because they are sick of waiting, Brian sends up overcooked Beef Wellington and Chef Ramsay sends Barbie over to show him how to cook the Wellington. Brian is pissed, but there is nothing he can do. Barbie sends up perfectly cooked Wellington and the patrons are finally receiving food again. She rocks it out and gets dinner service finished for the Blue Team.
Chef Ramsay calls the Red Team together and said there is no other better way to celebrate a great dinner service than with black jackets! All three chefs on the Red Team receive black jackets. For the Blue Team, they must decide which two chefs don't deserve a black jacket. They go back to discuss and Robyn starts out by calling Justin a liar. They vote and Robyn is going up, but it is a tie between Clemenza and Brian, but Brian is determined he is not going anywhere, yet he couldn't finish the meat. They come back to Hell's Kitchen and tell Chef Ramsay that the first nominee is Robyn because she has been the weakest player. Clemenza then says they are split between himself and Brian for the second nominee. Chef Ramsay is pissed that they couldn't finish dinner service and now they can't come up with two nominees, so he calls them all to the front...shit is about to get real! They all tell Chef Ramsay why they deserve to wear a black jacket. Clemenza and Justin receive their black jackets. He tells Robyn and Brian to take off their jackets and he gives Robyn a black jacket and Brian is headed home.
Hell's Kitchen airs on Mondays and Tuesdays at 8/7c on FOX.
(Image courtesy of FOX)
Follow Todd @tbetzold