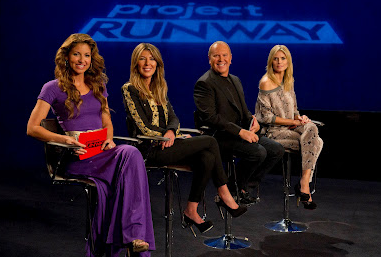 by Gina Scarpa
Dylan Lauren, CEO of Dylan's Candy Bar, knows a thing or two about fashion - after all, her father is the world famous designer Ralph Lauren! Considering this week's challenge on Project Runway is to create a dress out of candy, she was the perfect choice to both host the challenge and be a guest judge. Today, she talked to RealityWanted and reporters in a press conference call to give us an inside look at this week's upcoming episode of Project Runway!
Q. Gina, RealityWanted: What makes candy such an interesting material to work with when it comes to fashion?
A. Dylan: When I look at candy, I see fashion. I always think there's so many colors and you can create great patterns out of candy. candy has different textures. Some is opaque, some is see through, some is long and gummy... I think when you collage all the candy together, it forms these amazing designs.
Q. Gina, RealityWanted: And what is the biggest challenge when working with candy?
A. Dylan: Well, the biggest challenge is that people probably wanna eat it! After that, probably the weight of candy adds up. You have to cover a lot of surface with a lot of candy. Certain glues don't adhere to candy. Glue guns can melt the candy. It's definitely a challenging medium! It's not flat, some shapes don't fit together, they don't stick to the muslin easily bu that's why it made the challenge so exciting.
Q. Gina, RealityWanted: Which usage of candy were you most surprised by at the fashion show?
A. Dylan: I was most surprised by some people that chose not to use more than one type of candy and one type of color. That really shocked me actually because Dylan's Candy Bar has over 7,000 types of candy. I'm a color freak, especially in fashion, so I was really surprised by that.

Q. Tell us a little about the challenge for this week's episode.
A. Dylan: This is a really non-conventional challenge and the medium is candy. It's a definitely unique medium for the show in that there's so may candies these designers got to choose from and so many shapes, colors, and textures. I think it's something people enjoy looking at and eating. To make clothing out of it is a new concept.
Q. How did you get involved with Project Runway?
A. Dylan: We were approached in that they wanted a medium to use that was different. They always try different things. Seeing the world's largest candy store... it's a very entertaining venue to shoot out of. Dylan's Candy Bar is the backdrop for the designers running around trying to find things. Having a fashion background, being that my dad is Ralph Lauren, I do have experience and they thought I'd be a good judge.
Q. Have you ever been involved in anything remotely like this before?
A. Dylan: My passion is creating candy art. I used to do a lot of mosaics using M&Ms, jellybeans, and gumballs. We've featured students who have worked on elaborate gowns out of candy. It was such a hit that when Project Runway approached us, we were very exciting. We merge fashion, art, and pop culture with candy. Fashion is tough because someone has to wear the item and move in it. I was really impressed.
Q. Were you watching people and thinking, "Oh no, that's not going to work!"?
A. Dylan: When I watched people shopping for very small items, I don't think they were thinking about how long it's going to take to fill the muslin and how heavy it would all become. Also, I was thinking they could've used bigger products to cover more surface area. If I could've said something, I would've said, "Don't get so many little things."
Q. Is there anything that you wanted the designers to use or stay away from?
A. Dylan: There were a few products that they were not able to use due to trademark graphics. We have a huge nostalgic section but they couldn't use that. I think some tried cotton candy but I'm not sure how it worked. I would've liked to see more giant lollipops but realistically, they were heavy. Some used them but I can't give it away.
Q. Do you think that turning candy into fashion is a practical idea?
A. Dylan: You can use shellac or different things to preserve the candy. To wear it once is probably as long as it would last. I definitely think it's practical in that you'll stand out in a crowd and have the most unique dress ever!

Project Runway airs Thursdays at 10/9c on Lifetime.
(Image courtesy of Lifetime)

Follow Gina @ginascarpa