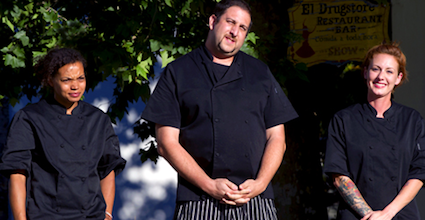 by Gina Scarpa
The final three chefs meet up in Uruguay, where they have only two hours to shop and prepare a traditional Uruguayian dish. To make things tougher (of course), they have to follow a map to three shops and those are the only three places that they can shop from. To make things even tougher... what the heck is in a traditional Uruguayian dish?! Avery's major mistake was hoping that there would be seafood at one of the shops, but the only thing she encounters is a butcher.
Waiting at the restaurant for Avery, Liz, and Nookie are Cat and Curtis, who will be tasting the dishes blind and will then give their feedback. In the kitchen, Liz tries to get some salt from Nookie but is she kidding?! He's not about to hand over a key flavoring ingredient to help your dish taste better.
Liz (Steak, argula, and strawberry salad with crumbled sausage): Curtis loved the carmelized onions, while Cat enjoyed the combination of the ingredients. Unfortunately though, Curtis pointed out the lack of salt and people in this country like their salt.
Nookie (Grilled chorizo with onions, arugula, and lady apples): Curtis loves chorizo but what he didn't love was that Nookie's dish was just so sweet. Cat felt it was just a little simplistic, as he didn't bring very much into the dish.
Avery (Roasted chicken with arugula and citrus salad): Cat was in favor of the wine Avery paired with the dish and felt the citrus was a nice addition to it.
Cat and Curtis reveal that the last takeover will be in Los Angeles but first, they're going to have to survive this round. They name Avery the winner and her celebration ends quickly when she finds out that she'll choose her opponent for the finale and eliminate the other contestant. That's a tough decision! She eliminates her friend Nookie, and takes Liz back to Los Angeles with her. Her reasoning? She doesn't want someone who is going to pull a shady move just to get the win. Ouch, double slap in the face!
Back in Los Angeles, Avery and Liz find out that they can pick two chefs to assist them in the final challenge. Avery chooses Nick and Jenna, while Liz goes with Chaz and John. Nookie was among the chefs not chosen - triple slapped! They'll each be preparing a full menu, with the dishes representing the different countries they've visited and showcase what they've learned.
In the middle of cooking, Avery's daughters and Liz's best friends and boyfriend surprise them, which brings a few tears but then it's time to get back to focusing on winning the $150,000.
Avery represents Thailand (toasted coconut "sand" with shrimp and green papaya salad), Argentina (beef filet with fire-roasted vegetables and chimichurri), and Morocco (mint tea with cardamom-spiced cream, pears, and spiced almonds) in her dishes. Nookie felt Avery represented Thailand well in her opening dish, but guest judge Wolfgang Puck found it to be a little one-dimensional. The beef was cooked well in her second dish, but her vegetables didn't come across as fire roasted as I'm sure she wanted. Wolfgang found her dessert to be complex and Curtis thought it was a beautiful meal.
Liz represents Thailand (Thai beef salad with coconut crispy rice), Italy (mushroom braised chicken), and Argentina (vanilla custard and orange empanada with dulce de leche) in her dishes. One of the diners called the salad the best dish he had eaten so far, while Cat said she'd remember that crispy rice.  Wolfgang didn't think her chicken seemed braised, but more slow roasted.  Cat felt thrown off by the dessert, but Wolfgang said it tasted nice. 
Let's get down a winner!  Cat and Curtis reveal that the last chef standing is... AVERY!  

(Image courtesy of Bravo)

Follow Gina @ginascarpa