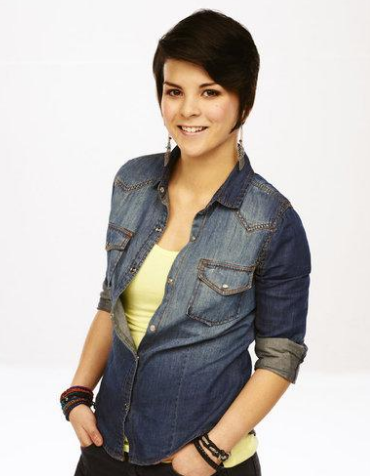 by Gina Scarpa
Mentor Zach Woodlee said it over and over to Nellie Veitenheimer on The Glee Project. They can only tell her so many times how much they want her in the competition. Eventually, it seems like they were just begging her to come out of her shell. But something held Nellie back, and after her last chance performance on last night's episode, the mentors decided that her time on the show had come to an end. We talked to Nellie today in an exclusive interview about the feedback she was given, what held her back, and what's next for her.
Q. Gina, RealityWanted: Did you watch season 1 of The Glee Project? What made you decide to try out for season 2?
A. Nellie: I did watch season 1 and was a huge fan. That's what alerted me that there would be a season 2. I thought, "Well, I have to do it!" I have tried out for other singing competitions but I'm glad I didn't make it on any of them. This one really takes you through a journey. I learned so much more than I would've.
Q. Gina, RealityWanted: Last night, the mentors wondered if you really wanted to be on The Glee Project or if you just wanted to be a singer/songwriter. Did you feel like maybe they misunderstood your desire to be on the show?
A. Nellie: Yeah, I don't think I expressed myself very well for them to be getting that impression. I definitely want the fans and everyone to know that yes, of course, I love singing and performing but I really did want to be there. I hope that comes across.
Q. Gina, RealityWanted: You had confidence issues throughout the competition and yet, they always gave you the sexy parts in the video. You must've been wondering why it kept happening!
A. Nellie: Yeah, I mean, there's that quote from me where I was like, "Why are you always doing this to me?" It was out of frustration because I always have so much to focus on and to be given, constantly, a really challenging role was frustrating. They wanted to push me out of my comfort zone.
Q. Gina, RealityWanted: What was the main issue this week, in terms of your confidence?
A. Nellie: I just wasn't comfortable with the costume and like I said, I was trying to focus on the acting and popping in the group. I've just always been really self-conscious but I am less so now. I think the one thing it really did for me was allow me to expand my comfort zone.
Q. Gina, RealityWanted: Who did you view as your biggest competition this season?
A. Nellie: At the beginning, I looked at Aylin as the competition. She's very sure of herself and we have similar singing styles at times. As the weeks went on and we became close, the only time it felt like a competition was when we were in the bottom three.
Q. Gina, RealityWanted: How does this group get along overall?
A. Nellie: Everyone is very close to this season. I don't know how last season meshed but I think that what we have as a group is incredibly special. I tended to hang out with the guys but I did become very close to everyone.
Q. Gina, RealityWanted: It must have been tough for you to hear the same feedback every week.
A. Nellie: It was incredibly frustrating. To get a repeat note for any performer is tough. Even weeks I felt more confident... it didn't come out that way. I'm not used to having to come off as that way. Even weeks where I was feeling confident, it was tough to get that critique.
Q. Gina, RealityWanted: Lily was pretty outspoken in her interviews about you and Michael getting repeat notes. Were you surprised by what you saw at any point this season?
A. Nellie: Not really. I wasn't surprised by anything. I had pretty much heard it all from the mentors.
Q. Gina, RealityWanted: What's the biggest thing you'll take away from The Glee Project and what is next for you?
A. Nellie: A confidence in myself in what I am and what I do. I've kind of allowed myself and given myself permission to do more than I thought I was capable of. I've learned that I am relatable and I can be inspiring to a certain group of people. I want to continue to pursue both acting and singing. I will always do music but I think it's important that I try to do both.

The Glee Project airs Tuesdays at 10/9c on Oxygen
(Image courtesy of Oxygen)

Follow Gina @ginascarpa