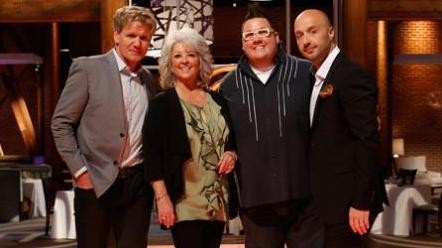 by Todd Betzold
We are down to the lucky seven on MasterChef, as the Top 7 take on the Mystery Box Challenge tonight and then battle it out in the Elimination Test. There will be a special guest judge tonight for the Mystery Box, as Paula Deen makes her way into the kitchen!
It is Mystery Box Challenge and they have the biggest Mystery Box in the history of MasterChef. In that box is, of course, Paula Deen, who handpicked a Mystery Box for the homecooks to create an amazing dish. The box includes a whole chicken, grits, hot sauce, bacon, cream cheese and more. Then the homecooks get a surprise. Paula Deen said her family is key for her in the kitchen, so they have a picture and letter of their loved ones in the drawer next to them...cue the tears! That was so emotional to see Monti with a picture of her son, Christine and the letter from her husband, Frank and the picture of his daughter. I am such a mess right now!
They have 60 minutes to create an amazing dish from the ingredients Paula picked for them. Joe said that David is cooking with conviction, as his dish is full of spices. Monti is making a dessert and Becky is making some fried okra, which is Paula's favorite thing ever. The time runs out and the judges take one final look to determine the three standout dishes.
The first dish tonight is Becky, who made Oven-Roasted Chicken with Fried Green Tomatoes, Biscuits and Gravy. Paula said she loves it Becky and loves sweet and savory mix. Graham said you've done us proud and great job. Chef Ramsay said you've put food on a plate with great finesse. The next dish is Frank, who made Chicken Roulade with Pepper Chutney and Spicy Potatoes. Paula said it is delicious, tart and hot. Joe said the technique is fancy and you've certainly got yourself noticed. Graham said it is a great show of technique. The last dish they taste tonight is David, who made Pan-Roasted Chicken with Red Pepper Grits and Shoestring Onions. Chef Ramsay said it's delicious and bloody good job. Paula said you've proved you can take very humble food and turn into a great plate. The judges discuss and the winner of the Mystery Box Challenge is Frank.
The homecooks thank Paula Deen for coming and then Frank heads back to the pantry with the judges to pick out the Elimination Test tonight. The Elimination Test is all about Japanese food tonight. For winning, Frank has immunity tonight and won't cook. They head back to MasterChef Kitchen and Frank heads to the gallery and the judges announce the Elimination Test. They have to create a perfect replication of the platter, which consists of Vegetable Tempura, California Roll, two Salmon Sushi, two Yellow Tail Sushi, two Tuna Sushi and two Shrimp Sushi. The homecooks will be broken into teams of two, which Frank handpicked. The judges will handpick the worst Japanese dish and one of them will be headed home.
The pairings are: Becky and David, Felix and Monti, Christine and Stacey. They will have 60 minutes to create one dish and it is a Tag Team Challenge, as they can only have one of them cooking at one time. When the judges yell switch, the other can go to the station to cook and the other goes to the end of the station to watch and shout out help. Monti said she knows Japanese cuisine a 1 on a scale of 1 to 10. David and Becky are butting heads, which is why Frank partnered them together.
Another switch and Felix is calling the shots for her and Monti. This team thing seems to be a mess, because neither of them want to listen to each other, besides Monti and Felix. Stacey and Christine seem to be behind everyone and David and Becky are on different pages. There is just mass chaos as time is running out and all the homecooks are talking. Time runs out and Stacey can't get the roll done, but all the teams think there plate looks like shit.
Time for the judges to taste the dishes and Monti and Felix are first. Joe said it is very good and a beautiful dish and finished. Graham said it is glistening and you both deserve a pat on the back. Chef Ramsay said they played to their strengths well and he is impressed.
Up next are David and Becky and Chef Ramsay said the meat looks like dogs chewed it and he expected more. Joe said he saw a side of Becky that was very disappointing and the best thing about the plate is that everything is on it and maybe Frank's strategy worked.
Last up are Stacey and Christine and Graham said you are missing the California Roll and Stacey was in such a panic and he wishes they could have seen an entire plate. Chef Ramsay said the rice is fun, but the cut is dreadful and he is nervous because this is the worst performance from both of them.
The judges discuss and Felix and Monti are the highs of this challenge. The losing team is Stacey and Christine and the judges head back to the pantry to discuss it even more. I don't like this one because I like both of these two and I never want to see Christine go home! The judges head back out and the person going home tonight is Stacey (ugh). Joe gave her a second chance after her audition and he said that was the best decision he has ever made in his life.
MasterChef airs on Mondays and Tuesdays at 9/8c on FOX.
(Image courtesy of FOX)
Follow Todd @tbetzold