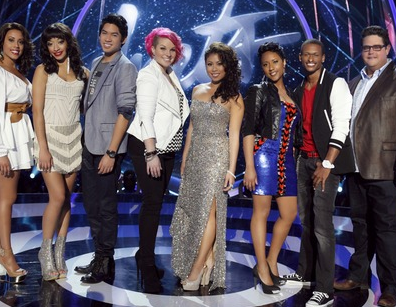 by Gina Scarpa
This week's episode of Duets kicks off with another performance by the four mentors/judges. No amateurs were eliminated last week and they'll have this week's performance too to help them win America over. Will Kelly be able to pull her people out of the bottom and will J Rome be able to hold onto the top spot on the charts? Let's find out!
Bridget Carrington and John Legend - I Knew You Were Waiting by George Michael and Aretha Franklin
Bridget's song this week is in a much better key for her and shows off more personality, too. That being said, she still doesn't look one hundred percent comfortable. Something in her eyes says, "Oh god, I'm being broadcast to millions of people!" Jennifer felt that there was a boost in confidence, but Robin was with me that she seemed uncomfortable when relating to the audience.
Jordan Meredith and Kelly Clarkson - Misery by Pink
Let's give Kelly some credit for picking a much better song this week for her duet partner, not that I don't love me some "Stronger". Everything about Jordan, this week, was better - the blending of their voices, the song choice, and her ability to show off what she can really do. Like Bridget, she hasn't settled into herself in the competition yet but hopefully, we'll get to see that happen. John felt some pitchiness and Robin said it started better than it ended. Can't argue with that.
John Glosson and Jennifer Nettles - Ain't No Mountain High Enough by Marvin Gaye
I think Jennifer made the perfect song choice for John, as it complimented their voices perfectly. However, one thing this guy does need to work on is his freestyle dance moves. It's a little awkward. Kelly called it a little hokey and cheesy but loved his vocals, but Robin said flat out that he felt it was the wrong song. Could it be because he's so partial to the original?
Olivia Chisholm and Robin Thicke - Where Is The Love by Roberta Flack and Donny Hathaway
Now, where as I liked the song choice Robin made for John, I absolutely hate the one Robin made for Olivia. Besides the fact that she didn't know it at all and struggled with lyrics this week, their voices never quite came together (it felt pitchy throughout) and the song itself was sleepy. It's funny that at the end of the song, it was Robin who screwed up the lyrics. Jennifer pointed out the pitch issues and said this song didn't really showcase her voice.
Meleana Brown and John Legend - Endless Love by Lionel Richie and Diana Ross
What? Johnny Gray, who seemed like he could be a contender this season, is out of the competition?! And you're not even going to tell me why?! The minute Meleana and John take the stage together though, I say to myself, "Johnny who?" This seems like a perfect match, and the panel agrees, though Kelly tells her not to worry so much about being technically perfect and more about being a soulful performer.
Jason Farol and Kelly Clarkson - Whenever You Call by Mariah Carey and Brian McKnight
I'll give credit to Kelly. She took on two serious projects, with both of her duet partners having very little performance experience. On stage with the very seasoned Kelly Clarkson, they can't help but came across as what they are: amateurs. I do think both were better than last week but it's a small step forward and they need to move quicker. He sang well, but the judges feel he's relying on his partner too much.
J Rome and Jennifer Nettles - You're The One That I Want by John Travolta and Olivia Newton John
Where as so many people seem uncomfortable on stage this season on Duets, J Rome looks right at home every time he has a mic in his hand.  Sure, the popular song from "Grease" is a little corny but he really comes out lookin' good during this week's round of performance.  Add in the fact that they threw in some backup dancers for a little extra effect and it's hard to imagine that he won't be at the top again.  The judges were fans, and Kelly was even wishing it showed off more of his voice.
Alexis Foster and Robin Thicke - You're All I Need To Get By by Marvin Gaye and Tammi Terrell
Okay, I get it.  Robin has a laid back vibe that carries over into his music but this really isn't doing Alexis a service here by hiding her behind a piano and keeping her from going into her big voice. On top of that, this song doesn't really go anywhere.  It's disappointing, since I think she has a lot more to offer.  Jennifer was happy when Alexis finally came around to the front of the piano, and Kelly found the whole performance to be disconnected.
Once the secret scores from the judges have been tabulated, here's how the singers ranked on the charts this week:

1. Meleana Brown
2. J Rome
3. Bridget Carrington
4. John Glosson
5. Jordan Meredith
6. Alexis Foster
7. Jason Farol
8. Olivia Chisholm
Duets airs Thursdays at 8/7c on ABC.
(Image courtesy of ABC)
Follow Gina @ginascarpa and "Like" her on Facebook!